Nokia Lumia 920 vs iPhone 5 vs Galaxy S III vs HTC One X low-light comparison yields predictable results
42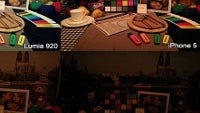 The
Nokia Lumia 920
was already demoed to show superior image stabilization while shooting video,
compared to its iPhone 5
,
Galaxy S III and HTC One X
peers, but what about low-light still shots, where Nokia claims a strength, too? We saw some low-light shots comparison in a Nokia-controlled setup with an
iPhone 4S and a Galaxy S III
, and now we have one against those three leading the Android and iOS pack above.
It was again a controlled environment, with the phones shooting in 5 lux - the amount of light you would get on a poorly-lit city street during the night. The Lumia 920 fared very well, followed by the
iPhone 5
with almost the same amount of light captured, less detail and more noise, but the samples from the
S III
and the
One X
came out pretty bad in this situation.
There was even an
808 PureView
thrown in the mix, but on auto settings it didn't fare better than the 920 in this particular setting that favors the OIS suspension in the
PureView Phase 2
on Lumia 920.
The team then took the prototype Lumia 920 for an improvised shooting session around Helsinki, and the results from the night shots are included in the slideshow below for your viewing pleasure.