Nokia Lumia 920 vs Samsung Galaxy S III vs HTC One X image stabilization test pops up
59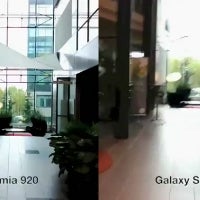 After we saw the
Nokia Lumia 920
toiling around a parking lot
next to an
iPhone 5
, recording non-jerky video, now is time to measure up its performance with the
Galaxy S III
, and the
HTC One X
.
We already saw a
Russian comparison with the Galaxy S III
, with both handsets mounted on a toy car, and given a ride around the office, but we haven't seen a comparison with HTC's finest, so check it out below.
Naturally, both the Korean and the Taiwanese Android devices don't sport a whole sophisticated suspension mechanism around the camera module to compensate for up to 500 movements per second. That mechanism is likely what makes the Nokia Lumia 920 much thicker than both the S III and the One X, but judging from the results, the tradeoff is worth it.