Apple iPhone 5 Review
99+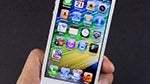 Introduction:
They come hard, they come strong! That's simply the reality of things nowadays for Apple, as competition from all corners has seemingly caught up with the iPhone 4S, and in some cases, surpassed it even. Not only are these competing devices boasting larger displays, faster processors, and higher capacity storage on paper than what the iPhone 4S had to provide, Apple's pride and joy still somehow managed to stiffen the competition with its imposing mindshare. Last year, when Apple unveiled the iPhone 4S, many were wondering if the renowned company has lost its magical touch – maybe from all the years of being complacent with its past laurels and successes.
Perhaps, that kind of attitude was the requisite inspiration that spurred its rivals to fight back with a vengeance. And boy did they come with arms up and fists slamming, since for the very first time ever, the iPhone's impenetrable façade exhibited subtle signs of fragility – a miniscule crack that blossomed into a gash, which shook its foundations tremendously. Whatever it was, there was no denying that innovation was now being seen by competitive devices such as the Samsung Galaxy S III, HTC One X, and Nokia Lumia 900 to name a few, which rose to prominence and established their presence in the landscape.
Despite the underwhelming response by critics alike, the iPhone 4S still managed to sell healthily, but under the surface, it still didn't have enough substance to satiate the demands of hungry consumers looking for the most cutting-edge thing. Regardless of that, Apple managed to address some of the previous concerns, as the iPhone 5 is positioned to be the best iPhone since, well, the iPhone itself.
Interestingly enough this time around, it seems as though Apple is the one that's actually catching up to the competition, since they've finally brought a bigger screen and speedy 4G LTE connectivity to the iPhone 5 – while continuing to improve with a retooled camera lens and new chipset. Add in that it's flaunting a new design, though still iconic at heart, it would seem that the highly anticipated
iPhone 5
is finally that cutting-edge device we drool over in our dreams. Of course, there's the matter regarding its performance and software experience, which sees the normal tweaks here and there. Surely though, there's no denying the anticipation riding on the back of this one – so with that, let's dive in and see if it can continue the legacy.
The package contains:
Lightning USB cable
Wall Charger
Earpods with Remote and Mic
Quick Start Guide
Apple Decals
Design:
After seeing a stream of leaks showing off the design of the iPhone 5 from the front, we have to admit that we were somewhat initially disappointed, mainly because they showed that the iPhone 5 would merely look like a stretched out iPhone 4/4S. To our shock, that's exactly how it turned out! But as we now reflect and gaze over its intricate design and attention to detail, we're actually quite fond of it – as in thoroughly impressed! For the most part, the iPhone 5 maintains the familiar styling of previous iPhones, which in turn, gives it that distinguishable iconic look. Simply, it oozes in every aspect with a genuine love for design that's unmatched by any other smartphone maker.
Indeed, the handset's length has been extended to 4.87-inches in contrast to the 4.54-inch length of its predecessor, but we're comforted to find that its width has been maintained at 2.31-inches. Essentially, the added space enables the device to accommodate
a larger 4-inch screen
, without compromising on its comfortable grip in the hand. Furthermore, it's both skinnier (0.3" thin) and lighter (3.95 oz) than its predecessor, which is a welcomed sight for the natural design progression of today's smartphones.
Cementing its status as being regarded as one of the most elegant devices on the market, the
iPhone 5 looks and feels like a high luxury item
that's instantly recognizable anywhere you take it. Gone is the glass surface in the rear used by the last two iPhones, and instead, it's been replaced by a brushed aluminum casing that further ensures its
rock solid construction
– while the same metallic bezel wraps around the entire thing to keep it soundly intact. However, if there's one qualm we have with the design of the iPhone 5, it has to be the sharp feel of the metallic bezel's diamond cut chamfered edge. Overall, it's still an instantly recognizable iPhone at heart, but the new backing combined with its more streamlined figure makes the redesign endearing enough for us to fall in love all over again.

You can compare the Apple iPhone 5 with many other phones using our Size Visualization Tool.
Being a staple with the iPhone's design throughout the years, the slightly recessed, yet springy
home button
is once again positioned in its familiar slot right below the display. Needless to say, we can't complain about it, since it's easily pressed and all. On the opposite edge, we're greeted to its narrow looking earpiece, light sensor, proximity sensor, and front-facing
1.3-megapixel camera
, which so happens to now capture video in 720p.
Just like its predecessor, both its separated volume controls and mute switch are placed on the
left side
of the handset's bezel. Thankfully, the rounded volume buttons are distinctive enough to feel out – while still exhibiting a comforting clicky response when pressed. Although the right edge of the handset appears to be clean, it's where we find the discrete nano-SIM slot, which is again accessed by inserting the SIM removal tool or a clip into the pinhole.
Interestingly enough, the
top edge
is home to only the raised and sufficiently sized power button, while the
3.5mm headset jack
has been moved towards the bottom where it's nearby the speaker, microphone, and Apple's new proprietary Lightning dock port. With the latter, it's one of the biggest changes seen on the iPhone 5, since for many years now, Apple's 30-pin port has been a familiar figure. No doubt, there are going to be some inconvenienced by this, especially when many accessories have been fitted to use the 30-pin port, but nevertheless, an optional adapter can be purchased to make them compatible with Apple's newest toy. In the end, the Lightning jack merely enables Apple to reduce the iPhone 5's overall size, since you know, it's now occupying a small amount of real estate.
And finally,
the rear of the iPhone 5
is home to the updated 8-megapixel iSight camera with LED flash and noise-cancellation microphone. Even though the megapixel count is the same as its predecessor, it's been blessed with an improved backside-illuminated sensor and retooled lens, which are safely guarded by a durable sapphire crystal glass. We know you're dying to know how it fares, but we'll get into those details a bit later on.
Display:
Finally! Some will applaud, some will cry, but whatever you feel, the iPhone is now on the bandwagon of believing that
bigger is better
. Simply without saying, the iPhone 5 sheds the consistent 3.5-inch display of yesterday's iPhones, and instead, and replaces it with a more modestly sized 4-inch Retina Display. Indeed, it's now better equipped to tangle with some of the smartphones out there with ginormous displays on them, but one thing's absolute – it's nice that only the length of the handset has been extended. The 640 x 1136 resolution of the iPhone 5's Retina Display results in a 326 ppi pixel density, same as the previous iPhone – it is detailed enough for our aging eyes to visibly make out fine details in the web browser and everywhere else with little issue.
Being a noteworthy thing to mention as well, the iPhone 5 employs an
in-cell touchscreen
that merely shaves off a layer, thus, bringing the display closer to the surface. However, it's almost negligible to the eye because we didn't notice much of a difference compared to the iPhone 4S Retina Display. Another thing about the display, its color production is noticeably warmer looking than previous efforts – giving it a more vibrant output than before. The colors are now more saturated, but still not too oversaturated as those of most AMOLED displays, which may seem more attractive, but aren't as accurate. Rounding things out, its strong brightness output combined with its superb viewing angles make it relatively easy for outdoor usage with the sun present. Frankly, we appreciate the change in scenery with the larger Retina Display on the iPhone 5, as it's complemented by an arsenal of great qualities about it, like its detail and superior clarity.
Display measurements and quality
Apple iPhone 5 360 Degrees View:

Recommended Stories