Nokia Lumia 2520 specs comparison vs Apple iPad vs Samsung Galaxy Note 10.1
32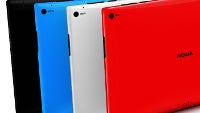 Nokia has revealed its first tablet, the 10-inch
Lumia 2520
, and it is the colorful pillow-shaped device that you'd expect from Nokia. It runs on Windows 8.1 RT and comes at a price of $500. The latter puts it in direct battle against the best of the largest tablets: the Apple iPad and the Samsung Galaxy Note 10.1. Does it have the hardware guts to beat that competition?
Good news is that the Lumia 2520 has both the vibrant screen and powerful chip to at least be on par with the competition. It features the brightest ever display on a tablet, a 10.1" 1080 x 1920 pixel screen with very low reflectance and a whopping 650 nits of brightness. In simpler terms, it's a great display for use in all conditions, but it stands out particularly under the sun where you can actually read text on your tablet.
Under the hood, the Lumia 2520 comes with the latest Snapdragon 800 quad-core system chip with Adreno 330 graphics and 2GB of RAM, a very powerful combo. And on its back, the tablet features an ambitious 6.7-megapixel camera with a Zeiss lens and wide f/1.9 aperture.
Add to this blazing fast cellular data speeds with 4G LTE connectivity on board, and support for expandable memory, and you arrive at an interesting combination running the latest Windows 8.1 RT. Take a look at how it fares against its direct rivals below.
IPS LCD
Super Clear LCD
IPS LCD
Oleophobic coating, Ambient light sensor
Ambient light sensor
Ambient light sensor, Scratch-resistant glass, Polarizing filter
Apple A6X
Qualcomm Snapdragon 800 MSM8974
Qualcomm Snapdragon 800 MSM8974
Quad-core, 2300 MHz, Krait 400
Quad-core, 2200 MHz, Krait 400
PowerVR SGX554
Adreno 330
Adreno 330
iOS (10.x, 9.x, 8.x, 7.x, 6.1, 6.x)
Android (4.4.2, 4.3), Samsung TouchWiz UI
Windows (RT 8.1)
25.0 days (600 hours)
the

average

is 0 days (0 h)
43.00 hours
the

average

is 0 h (0 min)
Single camera
Single camera
Single camera
5 MP (Autofocus, BSI sensor)
8 MP (Autofocus, BSI sensor)
6.7 MP (Autofocus, CMOS image sensor)
Aperture size: F2.4
Aperture size: F1.9; Focal length: 26 mm; Sensor size: 1/3.4"
1920x1080 (Full HD) (30 fps)
1920x1080 (Full HD)
1920x1080 (Full HD) (30 fps)
1.2 MP
2 MP
2 MP
1280x720 (HD)
1280x720 (HD) (30 fps)
9.50 x 7.31 x 0.37 inches (241.2 x 185.7 x 9.4 mm)
9.57 x 6.75 x 0.31 inches (243.1 x 171.4 x 7.9 mm)
10.51 x 6.61 x 0.35 inches (267 x 168 x 8.9 mm)
23.35 oz (662.0 g)
the

average

is 16.3 oz (464 g)
19.29 oz (547.0 g)
the

average

is 16.3 oz (464 g)
21.69 oz (615.0 g)
the

average

is 16.3 oz (464 g)