Apple iPad 4 Review
71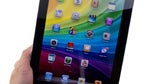 Update:

You can now read our Apple iPad Air review!

Introduction:
Breaking its very own sacred routine of releasing a new iPad model every year, Apple undeniably took everyone by surprise as they not only announced one new iPad, but two at its most recent San Francisco event. Just a little over six months ago, the
third-generation iPad
became the Cupertino-based company's flagship tablet, as it moved the industry along its normal course by introducing us to a Retina Display ready iPad. Now in the present, it has seemingly given up its seat on the throne to the latest entrant to the market – the aptly named
Apple iPad 4
, which isn't necessarily a true successor. Instead, it's sporting some minor hardware upgrades, while opting to employ Apple's new Lightning dock port. Knowing all of that, will it still be something you'll want to consider when there's a new and lower priced iPad lurking about?
The package contains:
Lightning USB cable
Wall Charger
Start Guide
Apple decals
Design:
Even though this is billed as the iPad 4, there's nothing new whatsoever with its design, build quality, and construction. In fact, it's an exact facsimile to the previous third-generation iPad, which isn't a terribly bad thing to expect per se – especially when it exudes a finish that's more premium than some of its direct competitors. As always, we adore the iPad 4's overall sturdy feel that's aided by its brushed aluminum casing, plus, it helps that it's still one svelte looking thing. After playing around with the iPad mini, though, it's quite evident that the iPad 4 is handled better with two hands – as opposed to one handed operation.

It wouldn't be an Apple device if we didn't see a recessed
home button
beneath the display, right? Well, that's carried over by this one, so there's still no worries about accidental presses. Above the display, we see the tablet's first upgrade over its predecessor. Specifically, it's now packing along a higher count 1.2-megapixel front-facing camera, which has the ability to shoot videos in 720 and ready to offer us high-definition quality with FaceTime.
Around the iPad 4's trim
, the only noticeable change here is the new Lightning docking port that replaced the former's long withstanding 30-pin connection. Aside from that, everything is found in their usual locations – like the 3.5mm headset jack, microphone, power button, mute switch, and volume control. Lastly, the rear looks mightily familiar since it's featuring the tablet's 5-megapixel auto-focus camera and speaker grill.
Display:
Already a benchmark thing on its own, it was unlikely for us to see Apple push forward with even a higher resolution display for the iPad 4. Rather, it's the same lovable one from before, so there's nothing much else to say about it. Even now, the
9.7-inch Retina display
on the iPad 4 is a marvelous thing to behold – mainly because it's super detailed thanks to its
2048 x 1536 resolution
, which puts up an admirable pixel density of 264 ppi. Additionally, it stands out for its very accurate colors, wide viewing angles, and high brightness output – all of which combine together to keep it visible under the view of the sun.
Recommended Stories