Nokia Lumia 2520 Review
61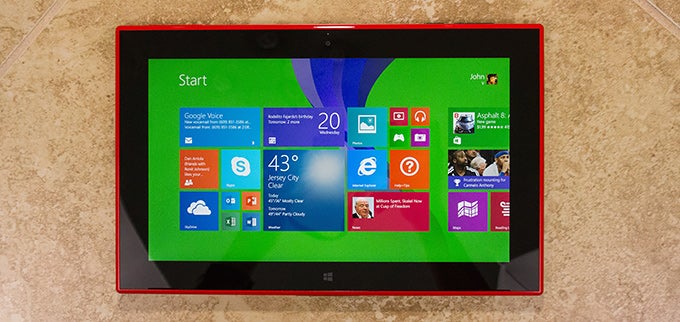 Introduction
Most of us don't know it, but Nokia actually tinkered around in the mobile computing space before – several years ago to be exact. Remember the Nokia Booklet 3G, an underpowered netbook-like thing that ran Windows 7? We won't be shocked if you can't, just because it was a short lived thing that proved to be nothing more than a test in futility. Besides its premium construction, everything else about it was a total wash – seemingly ending the Finnish company's presence in the space.
Well, that was four years ago, and since that time, Nokia has gone through a transformation of its own. Having its efforts invested in all things Microsoft, the company is finally making its appearance in the competitive tablet market. Unlike the Booklet 3G, the
Nokia Lumia 2520
is one serious tablet from the get-go that's aiming to hit it big with the masses – just like its line of high-end Lumia smartphones. Already having to contend with several big named tablets on the scene right now, does the Lumia 2520 stand a chance in coming out on top?
The package contains:
Wall charger
SIM removal tool
Get started guide
Warranty information
Design
Yet again, Nokia shows us that it's capable of crafting such attractive products that shine above the typically designed slates out there. And that's what simply gets our attention right from the onset - its design. Clearly the Lumia presence is well established here, as the tablet employs the distinctive design cues of Nokia's smartphone line. Thanks to its tapered design, the tablet appears thinner than it is, since it starts off having a skinny profile from its sides (0.35-inches), and gradually thickens towards the center of the casing. The effect is subtle, but enough to give it a consistent streamlined construction. Throw in the curved nature of its trim, and it feels very comfortable to hold. Its weight of 615 grams complements it, as it is lighter than most Windows RT tablets (Surface 2, we're watching you) yet it is heavier than rival Android tablets and the iPad Air.
Utilizing the same polycarbonate materials used by its Lumia smartphones, the tablet exudes a pretty decent amount of sturdiness with its construction. With our particular unit, the plastic has a glossy finish, much like the white version of the tablet, which is notorious for attracting smudges and fingerprints very easily. Conversely, the cyan and black versions have a matte finish – allowing them to maintain a cleaner appearance. Needless to say, both finishes have their own attributes, but it's just wonderful to see that color variety is something that's available with this. Indeed, we've seen several attractive tablets this fall already, but the Nokia Lumia 2520 has a flashy look of its own that undoubtedly comes off as being fresh on the scene.
In being a Windows RT 8.1 tablet, it sports a capacitive start button just below its display – transporting us back to the start screen when it's pressed. Above the display, we have its 2-megapixel front-facing camera, light sensor, and an LED light that kicks on to indicate the camera(s) is in use.
For having such a skinny trim, it's comforting that the Lumia 2520 is outfitted with all the usual ports and buttons – and then some! Along the right edge, we have a microHDMI port for easy video-out functionality, and a microUSB 3.0 port. Meanwhile on the left side of the tablet, it first looks as though it's packing two 3.5mm headset ports, but in fact, one of them is the unit's proprietary charging port. And yes folks, it wields dual speakers too for stereo support – and they're located on the bottom left and right edges of the display.
Both the power button and volume control are too flat to distinguish with our fingers, and at the same time, their responses are a bit subdued. Well, it's wonderful that it packs a microSD card slot to supplement its internal capacity, but the slot itself is a part of the SIM tray. Meaning, if we need to access it, we temporarily cut its wireless connectivity at the same time.
And finally, the bottom edge features several pin connection ports that are used to connect the optional keyboard accessory to the tablet.
In the rear sits a healthy sized 6.7-megapixel auto-focus camera, which features a Zeiss lens with an aperture of f.1.9, and 1080p video recording. Obviously, it's nothing close to the camera gear in some recent Lumia smartphones, but nevertheless, it's a fitting one for a tablet.
Display
When you're new to the scene, you need to have a display that's on par to the competition. Thankfully, the Nokia Lumia 2520 is armed with an attractive one. Specifically, it flaunts a 10.1-inch 1920 x 1080 IPS LCD display, which equates to having a pixel density count of 218 ppi. Certainly, it's a sharp looking thing that delivers crisp details from all angles – so there are no concerns about fighting over miniscule text with our eyes. Additionally, there are several elements that complement its beauty – like its potent brightness output, average viewing angles, and a vibrant color reproduction. With the latter, it tends to exude a warmer tone. Although it might not produce the most realistic colors tones, its iridescence helps to keep our eyes affixed to its glow.
However, there are two distractive things about the display. First, it's just notorious for attracting smudges and fingerprint – much like its plastic body. Unfortunately, it doesn't seem like the display is treated with any sort of anti-fingerprint properties, so we're constantly rubbing it down with a cloth. And secondly, we notice just a little bit of subtle bleeding around the edges of the display, which is most noticeable when the screen is displaying the color black. Despite those issues, everything about the display is predictable in giving it a high end reputation.