Motorola Moto X (2014) vs Samsung Galaxy Note 4 vs LG G3: spec comparison
16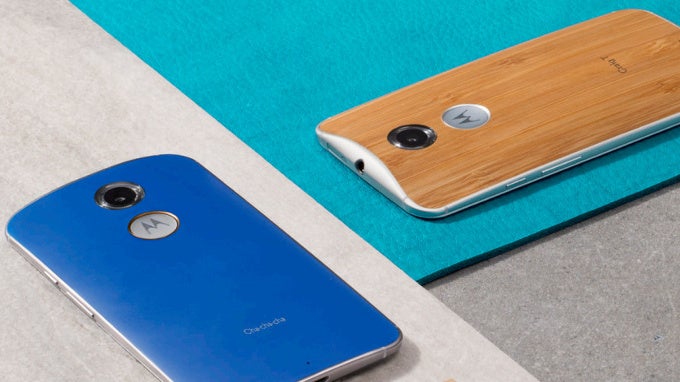 The new Motorola Moto X has broken cover today and it's time we compared it against two other heavy-weight flagship devices, two phablets, in fact: the just-unveiled Samsung Galaxy Note 4 and the already available LG G3.
First, let's say that the 5.2-inch Moto X is noticeably more compact than the pretty large Note 4 and G3, so when you pick between these devices your first and foremost concern should be about deciding on the right size for you.
For all else, though, we are looking at three of the most powerful devices on the market right now. The new Moto X features a Snapdragon 801 system chip, just as the LG G3, and only the Samsung Galaxy Note 3 can brag with having the newer Snapdragon 805. However, the difference in performance is mitigated by the fact that the Note 4 has a tougher task with that 1440 x 2560-pixel Quad HD display with its much higher pixel load, while the Moto X's 1080p screen does not put such a strain on performance.
You can pick up the rest of the differences between these three in the table right below, and feel free to also share your thoughts about how much specs affect your buying decisions these days as the difference between devices are starting to become less noticeable.
IPS LCD
Super AMOLED
AMOLED
Oleophobic coating, Scratch-resistant glass, Ambient light sensor, Proximity sensor
Scratch-resistant glass, Ambient light sensor, Proximity sensor
Scratch-resistant glass, Ambient light sensor, Proximity sensor
Qualcomm Snapdragon 801 8974-AC
Samsung Exynos 7 Octa 5433 (20 nm)
Qualcomm Snapdragon 801 8974-AC
Quad-core, 2500 MHz, Krait 400
Octa-core, 1900 MHz, ARM Cortex-A57 and ARM Cortex-A53, 64-bit
Quad-core, 2500 MHz, Krait 400
Adreno 330
Mali-T760 MP6
Adreno 330
Android (6.0 Marshmallow, 5.1 Lollipop, 5.0 Lollipop, 4.4.2)
Android (6.0 Marshmallow, 5.1 Lollipop, 5.0 Lollipop, 4.4), Samsung TouchWiz UI
Android (5.1 Lollipop, 5.0 Lollipop, 4.4.4)
Qualcomm Quick Charge 2.0
Qualcomm Quick Charge 2.0
19.00 hours
the

average

is 11 h (660 min)
22.8 days (548 hours)
the

average

is 29 days (688 h)
21.00 hours
the

average

is 0 h (0 min)
20.00 hours
the

average

is 0 h (0 min)
23.0 days (553 hours)
the

average

is 0 days (0 h)
25.0 days (600 hours)
the

average

is 20 days (472 h)
Single camera
Single camera
Single camera
13 MP (OIS, Laser autofocus, BSI sensor)
16 MP (OIS, Autofocus, BSI sensor)
Aperture size: F2.4; Focal length: 29 mm; Sensor size: 1/3.06"; Pixel size: 1.12 μm
Aperture size: F2.2; Focal length: 31 mm; Sensor size: 1/2.6"; Pixel size: 1.12 μm
Aperture size: F2.2; Focal length: 29 mm; Sensor size: 1/3.06"; Pixel size: 1.13 μm
3840x2160 (4K UHD) (30 fps), 1920x1080 (Full HD) (30 fps)
3840x2160 (4K UHD) (30 fps), 1920x1080 (Full HD) (60 fps)
3840x2160 (4K UHD) (30 fps), 1920x1080 (Full HD) (30 fps)
OIS
OIS, Continuous autofocus, Picture-taking during video recording, Video calling, Video sharing
EIS, Video calling
2.1 MP
3.7 MP
2 MP
1920x1080 (Full HD)
2560x1440 (QHD) (30 fps)
1920x1080 (Full HD)
5.76 x 2.94 x 0.35 inches (146.3 x 74.6 x 8.9 mm)
6.04 x 3.09 x 0.33 inches (153.5 x 78.6 x 8.5 mm)
5.54 x 2.85 x 0.39 inches (140.8 x 72.4 x 9.9 mm)
5.26 oz (149.0 g)
the

average

is 6 oz (171 g)
6.21 oz (176.0 g)
the

average

is 6 oz (171 g)
5.08 oz (144.0 g)
the

average

is 6 oz (171 g)
Back: Plastic
Back: Plastic; Frame: Aluminum
Back: Plastic
Notification light, Touch sensitive control keys