More Force: Rovio adds twenty new Angry Birds Star Wars levels
2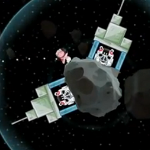 Rovio has done it again. Days after
announcing upcoming new levels for Bad Piggies, called Road Hogs
, Rovio has announced
twenty new levels
to Angry Birds Star Wars called the "Escape from Hoth" content pack. We've called Angry Birds Star Wars
the best game in the series
and the new levels make it even better. Besides the new levels, there are new enemies called "mynock pigs," and more Star Wars references.
The update, which is available for iOS and Android players, has the aforementioned twenty new levels and also includes
two new bonus levels
. Those "mynock pigs" are found in the belly of asteroids and you will need to make a daring escape in an epic boss fight! Sounds like fun.
"After the epic Battle of Hoth, the Rebel Birds have barely escaped the ice planet with the Pigtroopers in close pursuit! There's an asteroid field close by that could provide some cover... but watch out, there's more to it than meets the eye!"-Angry Birds Star Wars "Escape from Hoth"
Angry Birds Star Wars
took only 2.5 hours to hit the top of the iTunes charts
back when it was launched late last year. In late November,
Rovio added twenty new levels to the game and introduced new characters like Princeless Leia
, played by Pink Bird. These entertaining updates are what separate Rovio from other developers.
You can check out some of the new "Escape from Hoth" content pack by clicking on the video below.
source:
GooglePlayStore
via
TechCrunch