Angry Birds Star Wars is strong with the force, sets record on the way to the top at iTunes
11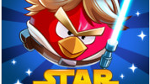 On Friday, we called Angry Birds Star Wars
"the best game in the series"
and it seems that the public agreed with us. In a mere 2.5 hours after being launched, the game was on
top of the U.S. iTunes charts
. That broke the previous record held by another game in Rovio's Angry Birds line, "
Bad Piggies
." That game, a look at the Angry Birds storyline from the pigs' point of view,
was just released last month and took 3 hours to make it to the top
at iTunes.
It took just 2.5 hours for Angry Birds Star Wars to hit the top at iTunes
We really have to hand it to Rovio. The company, which has a rather ambitious goal of being the
next Disney
, has been so focused on merchandising the Angry Birds (although we do draw the line at Angry Birds condoms) that they easily could have let the game go, profited from merchandising, and sit back collecting royalties in perpetuity. Instead, they deliver their strongest effort yet.
Angry Birds Star Wars is now available at the Apple App Store and in the Google Play Store.
source:
Rovio
via
BGR