Mockup of Apple iPhone 8 shows us what the anniversary edition might look like
40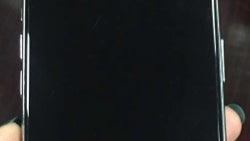 The
Apple iPhone 7s
and
Apple iPhone 7s Plus
will apparently look very much like the current iPhone models when they are introduced in September. The 10th anniversary edition iPhone, dubbed the
Apple iPhone 8
, is another matter altogether. A mock up of the iPhone 8 has surfaced that supposedly is a dead ringer for the real thing. It is based on recent rumors and leaks about what will be the first iPhone to feature an OLED screen.
The double-camera setup on the back panel is vertically positioned, and there are 2.5D glass panels employed on both the front and back of the device. Once again, the 3.5mm earphone jack is conspicuous by its absence. Also absent is
the rear Touch ID button that has appeared on some renders and CAD images
of the unit. Because the iPhone 8 will sport an edge-to-edge display, there is no longer any place in front to put a home button/fingerprint scanner.
Plan "A" calls for the home button/fingerprint scanner to be embedded under the front screen in a small .55 to .65-inch area of the display. But the technology might not be ironed out in time, forcing Apple to resort to its back up plan which calls for a button on the back of the device. Samsung also tried to embed the fingerprint scanner on the
Samsung Galaxy S8
/
S8+
under the front screen. But Samsung ended up having to place the button on the back of the device, next to the camera.
While the mockup of the iPhone 8 doesn't show a rear Touch ID button, it also doesn't mean that it won't be placed there when the phone is being mass produced. Speaking of production,
securities firm
Morgan Stanley says that the Apple iPhone 8 will ship on time
. This contradicts other reports that
blame hardware issues for possible delays in the launch of the iPhone 8
to as late as November.
source:
BGR