Touch ID on the back of Apple iPhone 8? The speculation continues
42
When the
Samsung Galaxy S8
and
Samsung Galaxy S8+
were launched with the fingerprint scanner right next to the rear-facing camera, some consumers were disappointed. After all, there was talk that Samsung would be embedding the fingerprint reader underneath the display. Unfortunately, the technology could not be worked out for this to take place. And when it comes to the 10th anniversary edition of the iPhone, as Yogi Berra once said, it's deja vu all over again.
Originally, the premium version of this year's iPhone, dubbed the
Apple iPhone 8
, was also expected to have Touch ID embedded under a small .55 to .65-inch area of the display. But problems getting the technology to work have led to
rumors of a possible delay in the launch of the device
. And it also has led to the dissemination of some iPhone 8 renders
that show a Touch ID button on the back
of the phone. The Galaxy S8/S8+ fingerprint scanner is so close to the rear camera, that users groping for it can easily smudge the lens. The renders for the iPhone 8 show the rear-facing Touch ID button underneath the camera lens, which should allow the latter to stay clear.
Some new rumors recently surfaced stating that
the 10th anniversary model could be unveiled next month at WWDC
. That would seem like a long shot. Right now, most analysts expect the iPhone 8 to be unveiled during the usual September time period, alongside the
Apple iPhone 7s
and
Apple iPhone 7s Plus
. The iPhone 8 could end up shipping as late as November, but is still supposed to be available for the holiday shopping season.
Meanwhile, analysts from securities firm CLSA have used previously leaked schematics and other information to come up with an image of their own pertaining to the iPhone 8. It shows the vertically positioned dual rear camera setup, additional sensors in front for the rumored 3D sensing feature that is supposed to be able to recognize faces, and the rear-facing fingerprint scanner.
"Both Samsung and Apple tried to enable in-display fingerprint sensing on full-screen OLED phones in 2017, but their optical tech seems immature and the major iPhone 8 bottleneck. Some thus speculate the fingerprint sensor will be removed and replaced by 3D sensing. Our latest supply chain checks indicate the iPhone 8 will still have the sensor given security, user-friendliness, and a need for payments infrastructure, but there is a high chance it will be on the back like Samsung's Galaxy S8."-CLSA report
We are only in the first inning of a nine-inning game. There is a long way to go.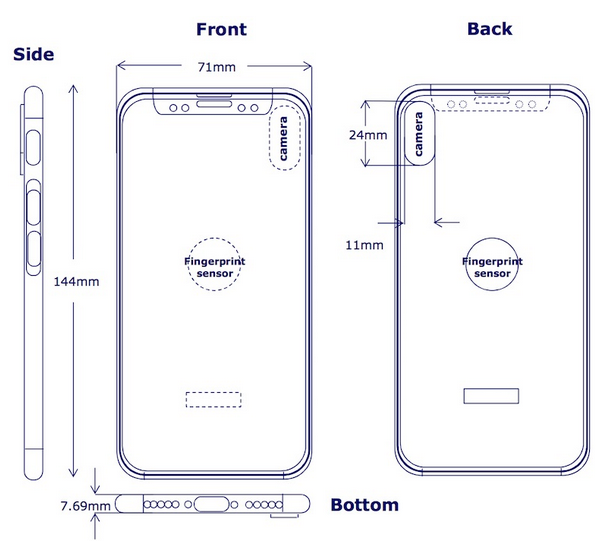 Apple iPhone 8 image from CLSA showing rear-facing Touch ID button
source:
MacRumors