Morgan Stanley sees no iPhone 8 delay; expects shipments to top Wall Street consensus in 2018
23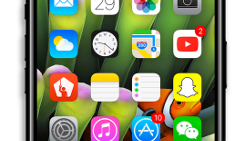 Ask three Wall Street analysts what 2+2 equals, and you're bound to get three different answers (never mind that none of them will be the right response). For example, for weeks now we've been hearing that
production problems with the 3D sensing technology on the front-facing camera
for the Apple iPhone 8, is slowing down production. Other analysts have pointed to
problems Apple is said to be having with embedding Touch ID under the front glass
. With the phone expected top offer an edge-to-edge display, Apple was hoping to put the fingerprint scanner under the glass. But if that cannot be done for one reason or another, Plan "B"calls for Apple to put a Touch ID button on the back of the phone.
While all of these issues could lead to a delay in the arrival of the iPhone 8, at least one Wall Street firm says that they see no evidence of such a delay in the handset's supply chain. Morgan Stanley is telling clients in a note that was sent out today, that they see components (including the OLED panels) arriving in time which will allow production of the 10th anniversary model to start on time.
"Recent reports on low yields for new components that could affect the 10th anniversary iPhone launch have caused investor concern, although Morgan Stanley's Greater China Technology Research colleagues have not yet seen delays in the supply chain and still expect new iPhone production to start on time for most of the components (including OLED). Nevertheless, we remain conservative in our initial expectations for iPhone supply, and forecast unit growth of only 3% in C2H17, well below the implied 20-30% growth based on current build forecasts."-Morgan Stanley note to clients
While it sounds like Morgan Stanley believes Apple may be slow to get new iPhone units flying out the door during the second half of this year, it has big expectations for 2018. Morgan Stanley analyst Katy Huberty says the second half of calendar 2017 will bring a small 3% growth rate in iPhone shipments. But things will take off in 2018, according to Huberty. She says that consensus forecasts predicting that Apple will ship 237 million iPhone 8 units in 2018 at an average price of $683 are "far too low."
source:
CNBC
Recommended Stories