Microsoft Lumia 950 XL vs Google Nexus 6P vs Motorola Moto X Style: specs comparison
12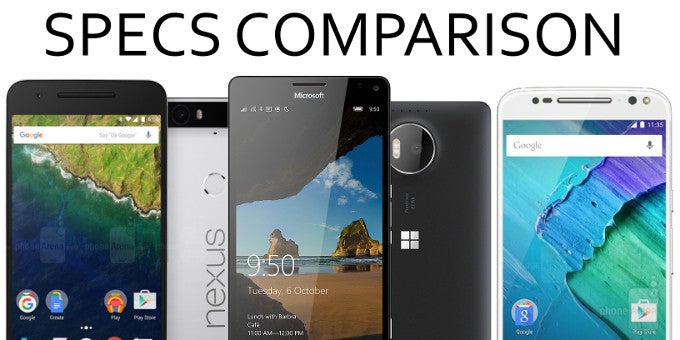 With the
Lumia 950 XL
, Microsoft just declared its ambitions to reclaim its somewhat lost and forlorn positions on the smartphone market. The 5.7-inch device goes all-in and doesn't skimp in the specs department, as well as an interesting set of software features, like Continuum. We can safely say that the Lumia 950 XL is the most advanced and well-spec'd device Microsoft has released so far.
True, it seems that the new super-sized heir of the Lumia 930/Icon is aiming straight at the most popular handsets out there. Namely, these would be the Galaxy Note5 and the
iPhone 6s
, but we already compared this venerable trio. Additionally, the Lumia 950 XL has other rivals, and these are two stock and almost stock troopers - the Nexus 6P and the Moto X Style.
Check out how the three compare against one another in terms of specs and specs alone.
Scratch-resistant glass, Ambient light sensor, Proximity sensor
Scratch-resistant glass, Ambient light sensor, Proximity sensor
Oleophobic coating, Scratch-resistant glass, Ambient light sensor, Proximity sensor
Qualcomm Snapdragon 810 MSM8994
Qualcomm Snapdragon 808 MSM8992
Qualcomm Snapdragon 810 MSM8994
Octa-core, 2000 MHz, ARM Cortex-A57 and ARM Cortex-A53, 64-bit
Hexa-core, 1800 MHz, ARM Cortex-A57 and ARM Cortex-A53, 64-bit
Octa-core, 2000 MHz, ARM Cortex-A57 and ARM Cortex-A53, 64-bit
Adreno 430
Adreno 418
Adreno 430
Windows (10 Mobile)
Android (7.0 Nougat, 6.0 Marshmallow, 5.1 Lollipop)
Android (8.1 Oreo, 8.0 Oreo, 7.1 Nougat, 7.0 Nougat, 6.0 Marshmallow)
Fast charging
Qualcomm Quick Charge 2.0
25.00 hours
the

average

is 17 h (996 min)
23.00 hours
the

average

is 17 h (996 min)
12.0 days (288 hours)
the

average

is 20 days (472 h)
18.3 days (440 hours)
the

average

is 20 days (472 h)
19.00 hours
the

average

is 19 h (1110 min)
LTE: 10 hours; Wi-Fi: 10 hours
Single camera
Single camera
Single camera
20 MP (OIS, Autofocus, BSI sensor)
12.3 MP (Laser autofocus)
Aperture size: F1.9; Focal length: 26 mm; Sensor size: 1/2.4"; Pixel size: 1.12 μm
Aperture size: F2.0; Focal length: 27 mm; Sensor size: 1/2.4"; Pixel size: 1.1 μm
Aperture size: F2.0; Sensor size: 1/2.3"; Pixel size: 1.55 μm
3840x2160 (4K UHD) (30 fps), 1920x1080 (Full HD) (60 fps), 1280x720 (HD) (120 fps)
3840x2160 (4K UHD) (30 fps), 1920x1080 (Full HD) (60 fps)
3840x2160 (4K UHD) (30 fps), 1920x1080 (Full HD), 1280x720 (HD) (240 fps)
OIS, Continuous autofocus, Video light, Video calling, Video sharing
HDR, Continuous autofocus, EIS, Video calling
Video calling
5.98 x 3.09 x 0.32 inches (151.9 x 78.4 x 8.1 mm)
6.06 x 3.00 x 0.44 inches (153.9 x 76.2 x 11.06 mm)
6.27 x 3.06 x 0.29 inches (159.3 x 77.8 x 7.3 mm)
5.82 oz (165.0 g)
the

average

is 6.5 oz (184 g)
6.31 oz (179.0 g)
the

average

is 6.5 oz (184 g)
6.28 oz (178.0 g)
the

average

is 6.5 oz (184 g)
Back: Plastic
Back: Plastic
Back: Aluminum
Iris scanner
Fingerprint (touch)
Touch sensitive control keys
Notification light