Google Nexus 6P Review
99+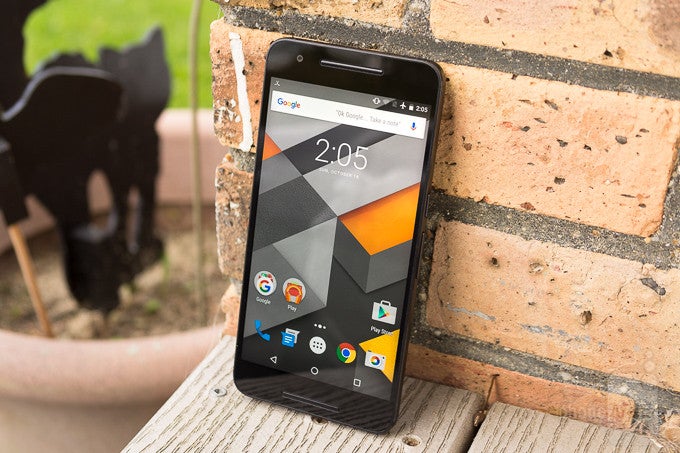 Introduction
Choice. It's a good thing. For this year's lineup of Nexus devices, Google adds not one, but two brand new smartphones that better cover a wider gamut of the demographics. We've already taken an in-depth look at the smaller model of the two, the
Google Nexus 5X
. Purists and enthusiasts are no doubt stoked about the prospect of pure Android, but not everyone will like the duller styling of the Nexus 5X.
Enter the
Nexus 6P
, a rock solid phone that screams Premium – it makes more sense why they named it the 6P. First timer in the Nexus world, Google commissioned Chinese company Huawei to design one its latest Nexus phones. For Huawei, it's undeniably a ripe opportunity for them to build brand reputation not only in the US, but all around the world as well, seeing that they've struggled in gaining notoriety in other markets besides Asia.
When last year's
Nexus 6
was announced, many Nexus faithfuls were given a little bit of a surprise in the form of a higher-priced smartphone – whereas with the previous two Nexus smartphones, they were much easier on the pockets. Normally, high-level, metal phones, especially ones accompanied with killer specs, tend to cost a premium as well, but for the Huawei-made Nexus 6P, it's ensuring that it's undercutting the competition with its $499.99 starting cost. And best of all, it's a pure Android device.
We've certainly seen our fair share of killer smartphones that are on the affordable side, so how does this Nexus compare?
The package contains:
Google Nexus 6P
Wall charger
USB Type-C to USB Type-C cable
USB Type-C to USB Type-A cable
Quick start guide
Safety & warranty information
SIM removal tool
Design
Sleek. Sexy. Super. It exudes an intense premium feel, arguably the most premium Nexus to date.
Looking back at what was done, the original grand-daddy of them all, the one and only
Nexus One
, arguably claimed the reputation of being the most premium-made Nexus ever. Yes, the
Nexus 4
came pretty close with its glass surfaces, but the original is still highly acclaimed. That's all changing, though, mainly because the Nexus 6P is one gorgeous looking phone from head-to-toe.
Huawei has crafted a fine handset with the Nexus 6P, boasting a contoured aluminum body that never feels brittle – even with its slim 7.3mm frame. Its aluminum chassis is incredibly sturdy, exhibiting a design that's meticulously crafted. You can see that attention to detail in things like its subtle beveled edges adorning its sides, the minimal plastic spacers used to comprise its cellular radio, and the shiny trim around the camera lens.
Speaking of the camera, some might point out the protruding hump that's there, but it's not as pervasive as you'd think. In fact, it looks like it doesn't stick out that much at all when viewing it at certain angles. Its size, instead, is arguably what's going to either attract or detract people from it. Comparing it to some other phones packing 5.7-inch screens, the Nexus 6P is a bit taller and wider – while sporting a 71.6% screen-to-body ratio, which is lower than say, the
Note5
or
Moto X Pure Edition
. Its weight, too, at 178 grams is a bit heavier than the Note5, but it's warranted considering it's nearly all metal here.
Above all, it's satisfying that it's sporting an original design with that premium quality intact. Not only is it a different looking thing, but it's undeniably the best-designed Nexus device put together to date. That's not an understatement at all, however, it certainly will help Huawei gain some notoriety on a wider basis. Although they're no strangers to premium designs, this one is just to die for.
When it comes to button placement, both the power button and volume controls are situated in ideal locations, next to one another on the right side of the phone. It helps that they're raised and offer spring responses when pressed, but we do like how the power button bears a rigid texture to tell it apart by just feeling it with our finger. The only other things found around its edges are the 3.5mm headphone jack on the top side, and a new USB Type-C port on the bottom.
Unlike its sibling in the Nexus 5X, the 6P comes with both a USB Type-C to USB Type-C cable to enable us to charge it with the included wall charger (one that rocks a USB Type-C port), as well as a USB Type-C to USB Type-A cable used to connect to a traditional USB port. At the moment, we find the latter cable to be the more useful of the two because it means we can connect it to our computer to transfer over files, and also charge it through any other USB chargers we have around. The argument for this newer connection is that the cable is reversible, so no more wondering if it's being inserted the correct way.
Oh yeah, the Nexus 6P also rocks dual-front firing speakers, which could've mitigated its screen-to-body ratio, but it's nice to have for watching videos because it ideally projects audio towards us. And lastly, there's a recessed fingerprint sensor in the back that functions flawlessly to unlock the phone – even when it's in standby. That's useful because it eliminates the need to press the power button first to wake it up, then proceed to unlock using the fingerprint sensor.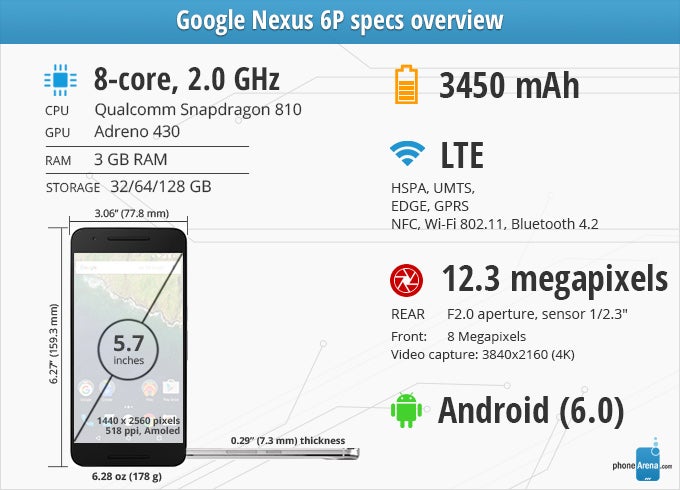 Display
It's not perfect, especially with its weaker brightness output and overblown colors, but it's quite vibrant for sure.
The Nexus 6P isn't fashioned with a 6-inch display, but rather, a 5.7-inch 1440 x 2560 AMOLED one. Details are no problem with this Quad-HD beast, as its 518 ppi pixel density matches that of the Note5 – so it's incredibly sharp and detailed, providing our eyes with some visual treats. Well, it should come as no surprise that the Nexus 6P wouldn't settle for anything less than Quad-HD resolution.
Without going into the synthetic benchmarks of the display, we will say that the screen here bears all of the staple qualities of AMOLED – like its wide viewing angles, high contrast, perfect black color tone, and those over-saturated colors that you may love or hate. Seriously, we won't deny that the package here has all the ingredients to make it attractive, but if we're to look more critically at its characteristics, it still has room for improvement.
First and foremost, we have to talk about its color accuracy in the sRGB color gamut chart. Taking a cursory look at the chart indicates that we're dealing with overblown colors here. It clearly shows that it's far from being very accurate. Reds appear blood red, yellows have a slightly orange tone to them, and blues tend to be deeper in tone than they should. The screen appears vibrant, but in reality, those colors are far from true-to-life.
Another thing we have to point out is its poor visibility outdoors when the sun is present – it washes out tremendously to the point that it's unusable unless we shield it. Achieving a maximum luminance of 356 nits, it's not as potent as the Nexus 5X mark of 487 nits, and nowhere close to the blinding 593 nits reached by the iPhone 6s Plus.
All is not bad with the Nexus 6P display, though, especially with its 2.26 gamma value and 6737K color temperature. Those figures aren't too off from the ideal values, so to that the degree, the screen manages to do a good job.
Display measurements and quality