LG G2 to come preloaded with music from the Vienna Boys Choir
5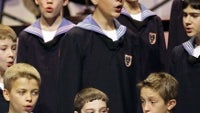 The
LG G2
is going to come to market with something a little unusual preloaded on the phone. The
Vienna Boys' Choir
has worked its harmonic magic for 9 ringtones and 5 notifications and alarms that will be included on the new model. Bach's Air on the G String is one of four chimes that will be available on the handset when it is released. The device will be
unveiled during an international event on August 7th
.
The Vienna Boys' Choir dates back 500 years and the group currently performs about 300 concerts a year in front of 500,000 fans globally. The members of the Choir mostly hail from Austria, but some represent other countries as well. Starting on Thursday, those visiting the LG G2 microsite (www.G2.LGMobile.com) will be able to download for free the
Life's Good ringtone
sung by the Vienna Boys' Choir as well as other free music.
This is not LG's first attempt to humanize cellphone sounds using the human voice to replace the sounds of technology. Back in 2006, the Korean OEM had Swedish acappella group,
The Real Group
use their talent to copy cellphone sounds using their voices. Four years later used the orchestra of Ennio Morricone to create sounds used on its smartphone lineup.
source: LG
SEOUL, July 31, 2013 — Sounds from the world famous Vienna Boys' Choir will come preloaded on LG Electronics' (LG) all new flagship LG G2 smartphone. LG worked closely with the choir to create a series of unique harmonic sounds including nine ringtones and five notifications and alarms. Also, four musical chimes such as Bach's Air on the G String are included.

"Whether it's classical compositions or fresh a cappella music, LG has always viewed beautiful music as a great complement to our beautiful devices," said Dr. Jong-seok Park, president and CEO of LG Electronics Mobile Communications Company. "As the pinnacle of international choirs and the most famous, it's fitting that the heavenly music of the Vienna Boys' Choir is featured on LG G2."

The Vienna Boys' Choir is one of the oldest and most famous boys' choirs in the world. For nearly 500 years it has been an enduring symbol of Austria and currently performs in about 300 concerts a year before half a million music lovers all over the globe. The boys are selected mainly from Austria but also hail from many other countries.

LG's efforts to create synergy between technology and human sensibility extends back to 2006 when LG worked with the Swedish a cappella group, The Real Group, to mimic cell phone sounds using human voices. In 2010, LG included the actual orchestra sounds of Ennio Morricone to its smartphone line up.

Starting on August 1, fans of great music can log on to the LG G2 microsite (www.G2.LGMobile.com) and download the Life's Good ringtone sung by the Vienna Boys' Choir as well as other free music.
Recommended Stories