LG G2 Review
99+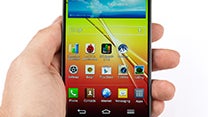 Update

: Read our LG G3 review!

Introduction
Life hasn't been so good for LG recently, at least when it comes to the smartphone market. In the last couple of years, the company has rolled out a number of high-end, flagship phones that haven't really managed to make a dent. Do you remember the Optimus 4X HD? The Optimus G? The G Pro? OK, the manufacturer scored a sweet deal with Google for the Nexus 4, though everyone knows that the Nexus 4 is anything else but a money-maker.
So, where to now? With a competitor that is becoming increasingly unbeatable, LG needs a hero device. It needs an absolute winner in order to at least get noticed by customers drowned in a sea of Galaxies. Interestingly, while HTC has decided to differentiate from Samsung by doing the exact opposite of what the South Koreans are doing, LG has employed a completely different tactic to battle the behemoth. It's mimicking the moves of its neighbor, trying to beat it in its own game.
And this is where the LG G2 comes in. The newest flagship of the company will try to outgrow, outpace and outsmart its rival, the Galaxy S4, by packing an even larger screen, an even faster processor and even more software features that would attempt (or pretend) to make your life easier.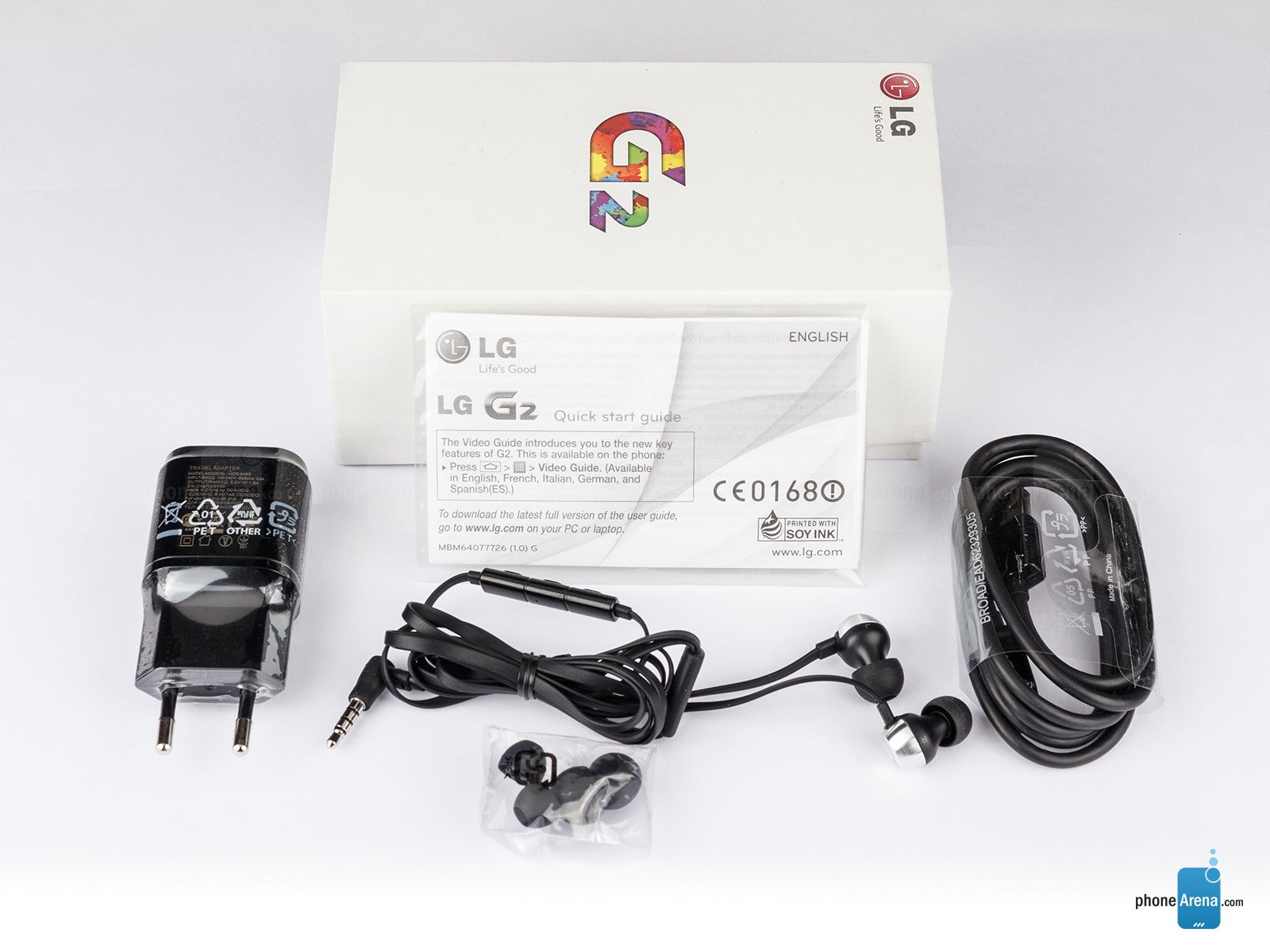 In the box:
USB cable
Wall charger
QuadBeat 2 earphones
Design
It's impossible to not notice the similarities between the G2 and the GS4 with regards to physique. After all, if Samsung can be successful with an uninspired, plastic design, why should LG try to shake things up there? Or at least, that seems to have been the thinking behind the G2's exterior. It's big, slightly bigger than an S4 (5.45 x 2.79 x 0.35 inches for the G2 versus 5.38 x 2.75 x 0.31 inches for the GS4), without any fancy appearance characteristics to make it stand out in any positive way. The plastic construction is nothing to write home about, but the occasional creaking sounds made by the back sure are irritating.
The G2's dimensions are still bearable. LG has done a terrific job thinning those bezels, while the nicely-curved back panel makes the handset sit comfortably in the palm of the hand. Even though the G2 is slightly bigger than the S4, we wouldn't say that LG's product is more uncomfortable to hold. In terms of weight, the G2's 5.04 oz doesn't make such a notable difference, compared to the Galaxy S4's 4.59 oz.
The most peculiar thing about the LG G2's design are the rear keys. Instead of positioning the power/lock and volume buttons on the sides of the handset, LG has placed those right on its back. This has been done for a couple of reasons. One, the side bezels have gotten so thin that the can no longer house any keys; and two, LG argues that placing the keys on the back would allow for a more intuitive access to those controls, as a user's index finger almost always defaults to that position upon picking up the phone. While we did not find the new positioning to be significantly worse than the good-old one, we can't say that it benefited our experience with the phone in any way. As a matter of fact, we feel that finding the desired rear key by touch alone is harder than finding it if it was placed somewhere around the sides of the device. Of course, this might simply be a matter of getting used to, which is why we'll continue using the handset during the days ahead and will update this review appropriately.
However, one thing we definitely didn't like about the rear volume keys is how cheap they feel – almost toy-like. Having in mind this is supposed to be a top-shelf product, LG should have tried a bit harder in this respect. Another design feature that we dislike is that the earpiece is concave, which causes a lot of dirt to permanently establish itself there. On a positive note, the manufacturer has wisely put the loudspeaker on the bottom, so that it doesn't get muffled when the device is laid on a table.
Display
Narrowing those bezels down has allowed LG to fit a spectacularly big screen in the still-bearable dimensions of the G2, and that's not an overstatement. We're talking of a 5.2" display here, which is 0.2" larger than what's found on the Galaxy S4, and boy is it a joy to be staring at this thing! With a resolution of 1080x1920 pixels (423 ppi) and a standard RGB matrix, this advanced IPS LCD display is extremely clean and sharp. When it comes to color balance, we can by not means say that it's bad, but it's colors are definitely towards the colder side. Don't get us wrong – it's still a great display and most users will probably not notice that the color temperature if a bit off, but when compared to the iPhone 5's display, it immediately gets noticeable that there's still some room for improvement.
The LG G2's display is very bright, and it's certainly very readable in bright daylight. It's probably not the very best out there, but it's definitely among the best in that respect. As it's now the norm, the viewing angles of this IPS LCD screen are very good, although still not perfect, as there's some noticeable brightness loss, but that's normal.
Finally, this screen's biggest advantage remains its sheer size, so if you happen to be among the users who just can have enough screen, the G2 should definitely be considered – it really makes gameplay and multimedia consumption that much more enjoyable.
Display measurements and quality
Recommended Stories