LG G Flex 2 between other peculiar phones: A size comparison
9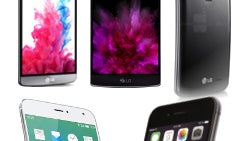 The
LG G Flex 2
has, after months of
rumors
, finally been announced. The successor to the original
G Flex
, from October 2013, brings a hardware refresh, most notably – a 64-bit, bleeding edge tech SoC; a much-needed bump in resolution; and a shrunken display, to ensure a smaller, more pocketable body.
We already pitted its
specs sheet
against a couple of its rivals, so now – let's take a look at how it fares in the bodybuilding department – or, in other words – compare its size to a couple of other smartphones.
Our first choice will, naturally, be the 2013
LG G Flex
– the smartphone, which first brought the curious curved shape to us, with its self-healing super powers and its bendable body. For a second handset, we went with another interesting device with a curved screen – the
Samsung Galaxy Note Edge
. And third - let's see how it compares next to Apple's first-ever phablet - the
iPhone 6 Plus
.
Next, let's put it next to some interesting devices from the smartphone class (and by that, we mean sub-5.5" displays). First, we'll take the thin-bezelled
LG G3
- another remarkable device from the company. And since we said thin bezels - let's see how the
Meizu MX4 Pro
sizes up here as well. Last, to gain a bit of a better sense of familiarity, let's add the
Galaxy S5
to the mix.
So, let's take a look!