LG G Flex 2 vs Sony Xperia Z3 vs Samsung Galaxy S5: A specs comparison
7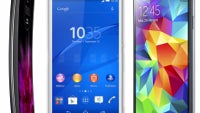 Well, Happy New Year to us tech-heads – LG has officially announced the
LG G Flex 2
– it was
speculated
and
rumored
about, but we had no idea how it would look. Well –
it's gorgeous
!
The successor to the curved, flexible
G Flex
from 2013 brings a smaller, yet – finer display – with a 5.5" diagonal, housing a 1080 x 1920 resolution (400 PPI), and boasts Qualcomm's latest flagship SoC – the 64-bit, octa-core Snapdragon 810 in strides to successfully carry the baton throughout 2015.
Of course, after such an announcement, we are itching to compare its specs to some of its competitors. Unfortunately, 64-bit capable flagships are yet to come out en masse, so we're forced to look back on some of the better performers from last year.
Well, let's grab one from the first half and one from the second half of 2014. The former device is going to be – you guessed it – the
Samsung Galaxy S5
– an all-rounder, brim-packed with features and powerful hardware. The second contestant is going to be Sony's beautiful
Xperia Z3
– released just 3 months ago, this flagship impressed us with an
excellent battery life
, and its snappy performance is no doubt assisted by its respectable specs.
So, let's check them out side by side!
Super AMOLED
IPS LCD
P-OLED
Scratch-resistant glass, Ambient light sensor, Proximity sensor
Ambient light sensor, Proximity sensor
Scratch-resistant glass, Ambient light sensor, Proximity sensor
Qualcomm Snapdragon 801 MSM8974-AC (28 nm)
Qualcomm Snapdragon 801 8974-AC
Qualcomm Snapdragon 810 MSM8994
Quad-core, 2500 MHz, Krait 400, 32-bit
Quad-core, 2500 MHz, Krait 400
Octa-core, 2000 MHz, ARM Cortex-A57 and ARM Cortex-A53, 64-bit
Adreno 330
Adreno 330
Adreno 430
Android (6.0 Marshmallow, 5.1 Lollipop, 5.0 Lollipop, 4.4.4, 4.4.2), Samsung TouchWiz UI
Android (6.0 Marshmallow, 5.1 Lollipop, 5.0 Lollipop, 4.4.4)
Android (5.1 Lollipop, 5.0 Lollipop)
Qualcomm Quick Charge 2.0
21.00 hours
the

average

is 3 h (180 min)
14.00 hours
the

average

is 3 h (180 min)
20.00 hours
the

average

is 3 h (180 min)
16.2 days (390 hours)
the

average

is 3 days (72 h)
37.1 days (890 hours)
the

average

is 3 days (72 h)
21.7 days (520 hours)
the

average

is 3 days (72 h)
21.00 hours
the

average

is 0 h (0 min)
18.00 hours
the

average

is 0 h (0 min)
18.8 days (450 hours)
the

average

is 0 days (0 h)
Single camera
Single camera
Single camera
20.7 MP (Autofocus, CMOS image sensor)
13 MP (OIS, Laser autofocus)
Aperture size: F2.2; Focal length: 31 mm; Sensor size: 1/2.6"; Pixel size: 1.12 μm
Aperture size: F2.0; Focal length: 25 mm; Sensor size: 1/2.3"; Pixel size: 1.12 μm
3840x2160 (4K UHD) (30 fps), 1920x1080 (Full HD) (60 fps)
3840x2160 (4K UHD) (30 fps), 1920x1080 (Full HD) (60 fps)
3840x2160 (4K UHD) (30 fps), 1920x1080 (Full HD) (60 fps)
HDR, Continuous autofocus, EIS, Video calling, Video sharing
HDR, Continuous autofocus, Picture-taking during video recording, EIS, Video calling
HDR, Continuous autofocus, Picture-taking during video recording, Video calling
2.1 MP
2.2 MP
2.1 MP
1920x1080 (Full HD)
1920x1080 (Full HD)
1920x1080 (Full HD) (30 fps)
5.59 x 2.85 x 0.32 inches (142 x 72.5 x 8.1 mm)
5.75 x 2.83 x 0.29 inches (146 x 72 x 7.3 mm)
5.87 x 2.96 x 0.37 inches (149.1 x 75.3 x 9.4 mm)
5.11 oz (145.0 g)
the

average

is 5.9 oz (168 g)
5.36 oz (152.0 g)
the

average

is 5.9 oz (168 g)
5.36 oz (152.0 g)
the

average

is 5.9 oz (168 g)
Back: Plastic
Back: Glass; Frame: Metal
Back: Plastic
Water, Dust; IP67
Water, Dust; IP68
Touch sensitive control keys, Interchangeable covers, Notification light
Recommended Stories