HTC U Ultra vs HTC U Play: what are the differences, and what do they have in common?
4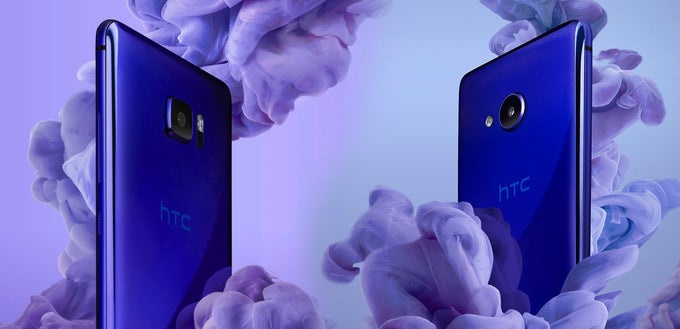 It is big, it is shiny, and it listens to your every word. That's the
HTC U Ultra
in a nutshell: the company's latest high-end phone, announced yesterday at an official event in Taiwan. And it wasn't alone on stage. HTC also unveiled the
HTC U Play
, which can be seen as the smaller, more affordable alternative to the Ultra. What sets these two phones apart? And being members of the same U series, what do they have in common? We're glad you asked!
First things first: size, design, appearance
Both
the HTC U Ultra and HTC U Play follow HTC's new Liquid Surface design principle. In other words, they sport glass backs with curvy edges and are highly reflective. Both are available in white, black, dark blue, and pink; the latter appears to be the rarest variant of all. A metal frame surrounds their sides, with volume and power buttons placed on the right, while a fingerprint reader resides below their displays.
Both
phones lack a 3.5mm headphone jack and use USB-C headphones instead. While a pair is included in the box, an adapter to 3.5mm isn't. We're not yet sure if HTC will eventually ship free adapters to HTC U buyers, as it did when the HTC Bolt launched on Sprint. #DongleLife
The HTC U Ultra
is clearly the bigger phone. That comes as no surprise, as it has to accommodate both a bigger battery and a secondary ticker display. It is also noticeably heavier.
Features and software: what can you do with them?
Both
the HTC U Ultra and HTC U Play support the new HTC Sense Companion, which is the company's AI assistant feature. It is deeply integrated in the phone's software and collects data about the user over time. This is done to provide alerts and suggestions proactively – if you have a meeting set for the afternoon, HTC's assistant will advise you to leave early if bad traffic is expected.
Both
phones come with high-quality always-on microphones. Their purpose is to enable voice unlocking – instead of using a fingerprint, you speak out a command to access your phone. You can also take calls, send messages, even start navigation, all without using your hands.
Only the HTC U Ultra
runs Android 7.0 Nougat out of the box. The U Play is going to ship with Android 6.0 Marshmallow – not too big of a deal, actually, as both phones run HTC's custom Sense interface, meaning that in terms of core features, both phones should be on the same page. Still, we suppose that an update to Nougat is going to come eventually to the U Play.

The HTC U Play is pretty, don't you think?
Getting technical: HTC U display and hardware specs
Only the HTC U Ultra
comes with a secondary ticker display. Situated above the main screen, its purpose is to deliver alerts and suggestions from the Sense Companion, but it also hosts shortcuts to favorite contacts and frequently used apps.
Only the HTC U Ultra
will have a screen protected by sapphire glass. The option will be available on a special limited edition of the Ultra, which will launch later this year. While the luxury of sapphire glass will cost you extra, the material is extremely resistant to scratching, which is why it is used on premium watches and those exotic, diamond-encrusted phones. The standard U Ultra will have a screen with Gorilla Glass 5 on top.
The remainder of differences between both phones' displays are technical in nature, so we've outlined them in the table below. All in all, the screen on the HTC U Ultra is larger and with greater resolution for sharper images, but the one on the U Play is also looking pretty great.
HTC U Ultra vs HTC U Play
Display specs compared
HTC U Ultra
HTC U Play
Size
Main screen: 5.7 inches
Secondary screen: 2.05 inches
5.2 inches
No secondary screen
Resolution
Main screen: 1440x2560 (513 ppi)
Secondary screen: 160x1040
1080 x 1920 (428 ppi)
Type
Super LCD 5
Super LCD (unspecified)
Protection
Gorilla Glass 5 (standard edition)
Sapphire Glass (limited edition)
Gorilla Glass (unspecified)
Misc.
Display color personalization
Display color personalization


Moving forward with the specs, we must also take a peek under the hoods of both phones. There's the hardware making both of them tick. And looking at specs alone...
The HTC U Ultra
is the more powerful of the two phones. Equipped with a Snapdragon 821 chip, it should perform better when it comes to running heavy apps and games. The Helio P10 performs well enough given the mid-range nature of the HTC U Play, but lags behind when it comes to single- and multi-core performance, as well as graphics rendering.
The HTC U Ultra
also has a bigger battery, although that's not a guarantee that you'll be getting better battery life out of it. The U Play could have lower power consumption, as it uses a less powerful SoC and a screen with lower resolution.
HTC U Ultra vs HTC U Play
Hardware specs compared
HTC U Ultra
HTC U Play
Processor
(SoC)
2.15GHz Snapdragon 821
Quad Core
Adreno 530 GPU
2.0GHz Helio P10
Octa Core
Mali-T860 MP2 GPU
RAM and
storage
4GB RAM
64GB Storage
(128GB on limited edition)
3GB RAM + 32GB Storage or
4GB RAM + 64GB Storage
microSD slot
Yes
Flex storage supported
Yes
Battery
3000mAh
Quick Charge 3.0 supported
2500mAh
Fast charging (5V, 2A)
HTC U Camera specs: which is the better shooter?
The HTC U Ultra
, in all likeliness. HTC has chosen to equip the phone with a camera that is very similar (if not identical) to the one on the HTC 10. And the HTC 10 takes really great photos. Now, it is true that the HTC U Play has more megapixels than the U Ultra (16MP vs 12MP), but as we've said on many occasions, megapixels aren't all that matters. The camera on the U Ultra uses a wider aperture and physically larger pixels, meaning that it should be better at capturing light – crucial when shooting in low-light situations.
Both
phones are on the same page when it comes to selfies, however. The two use 16MP cameras with angles wide enough to fit you and your buddies in the frame. When shooting, you may switch between regular, full-resolution mode and UltraPixel mode, the latter being 4 times more sensitive to light, according to HTC's press materials. What this means in practice? We're not entirely sure, but we'll let you know once we do.
HTC U Ultra vs HTC U Play
Camera specs compared
HTC U Ultra
HTC U Play
Resolution
12MP
16MP
Pixel size and
aperture
1.55um pixels
F1.8
1.0um pixels
F2.0
Stabilization
Yes, OIS
Yes, OIS
Focusing
PDAF + Laser Focusing
PDAF
Video
recording
4K video
Slow-motion video (720p@120fps)
FullHD video
Other features
Sapphire lens, dual-tone LED flash,
Pro mode with manual
controls and RAW support
dual-tone LED flash,
Pro mode with manual
controls and RAW support
Selfie camera
16MP fixed-focus with F2.0 and 77.9-degree view angle, Selfie panorama, Auto HDR, FullHD video recording at 30fps
16MP fixed-focus with F2.0 and 77.9-degree view angle, Selfie panorama, Auto HDR, FullHD video recording at 30fps

Sound and multimedia
Both
phones come with HTC's USonic feature. This is practically what we saw on the HTC Bolt from a couple of months ago. Long story short, the earphones provided with the U Ultra and U Play utilize an ultrasonic beam to scan the internal structure of the user's ear. Then a personalized profile is created – not unlike an advanced equalizer – and is then applied to the audio being played. Sound is thus matched to the user's ears and hearing for a superior experience.
Only the HTC U Ultra
has an array of 4 microphones, allowing it to record spatial, high-resolution sound in videos. The HTC U Play has only two microphones to do the sound-recording job.
Only the HTC U Ultra
boasts HTC's trademark BoomSound Hi-Fi setup. Practically speaking, this means that the speaker on the bottom produces lower and middle frequencies, while the highs are handled by the phone's earpiece. This should allow it to produce richer, fuller sound compared to the U Play, which uses a single bottom-firing speaker.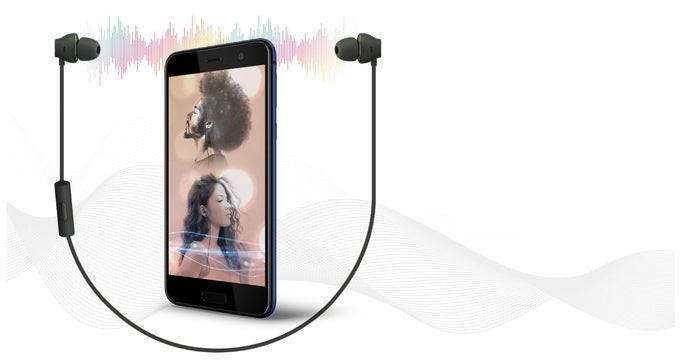 HTC U price, release date, availability
And finally, here's when you can get HTC's beauties and how much they're going to cost you. Sorry to disappoint you, but they won't come cheap.
The HTC U Ultra
is a single-SIM phone that will work on AT&T or T-Mobile in the US. It can be pre-ordered for $749 at HTC.com, with orders expected to start shipping in March.
The HTC U Play
is a dual-SIM phone that will be sold in select global markets in early 2017. It will work on your GSM carrier of choice once you place a SIM card in. Verizon and Sprint compatibility doesn't seem to be present.
Recommended Stories