HTC U Play Review
12

Introduction
HTC introduced its new glass U-series not long ago, and we already reviewed its flagship representative, the U Ultra. It is now time to move downmarket and inspect the
HTC U Play
, which comes with a more manageable display size, premium design, and 16 MP cameras both front and back. In short, the U Play has everything we could expect out of a worthy midranger these days, at least on paper. But how does it perform in practice? Let's dive in...
Design
Slippery is the first impression that comes to mind when you pick up the U Play. The phone is made with the trendy glass sandwich design, where two sheets of thermoformed cover glass are pressed against a metal frame. HTC has done this in a pretty symmetric manner, and the U Play leaves a quality feeling both when you look at the device and when you hold it. For its size, the handset is light enough. The back has been treated to a fancy paintjob which gives it a hue-shifting reflection. In the case of our white version, that results in a nacre, mother-of-pearl visual effect.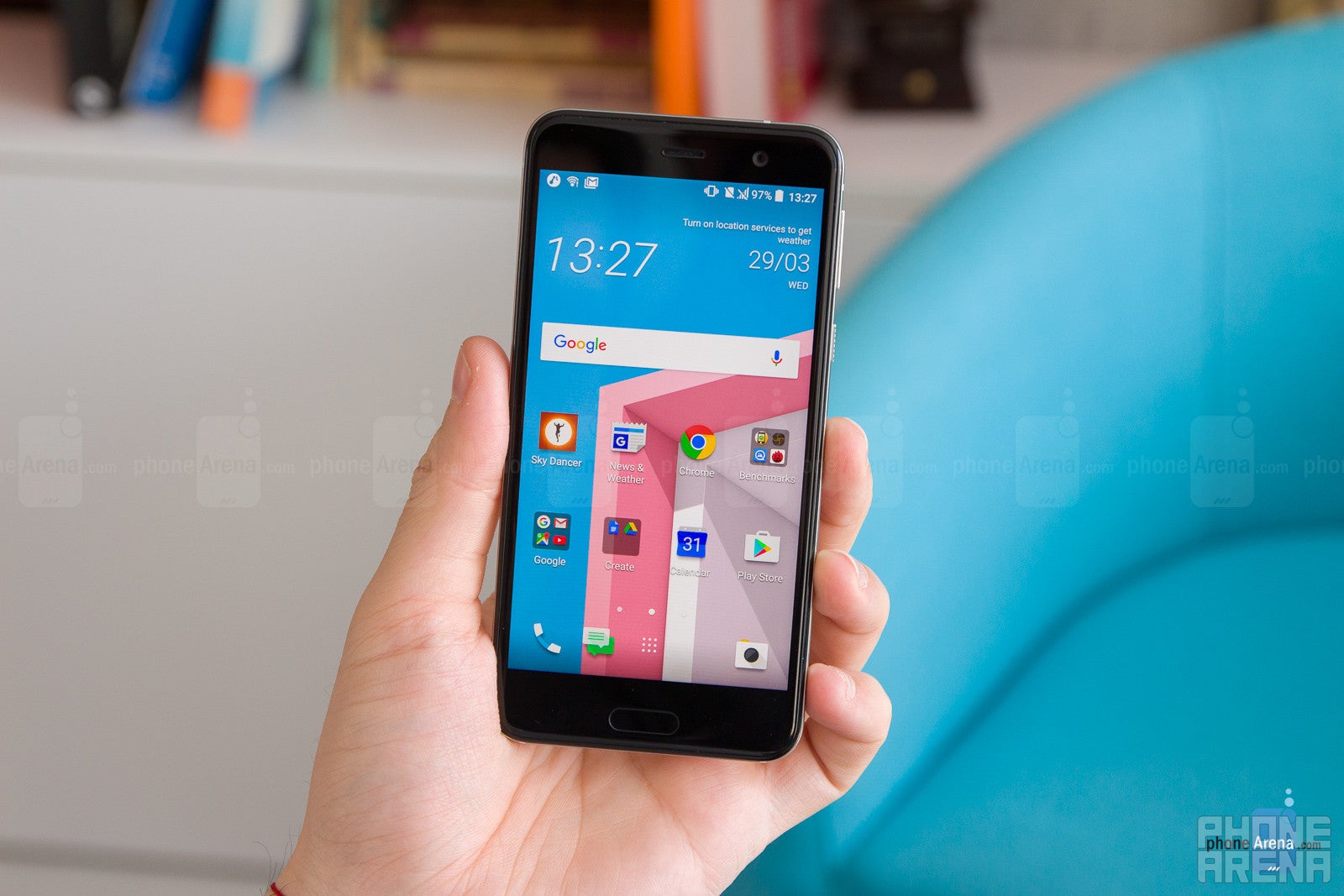 As we mentioned in the beginning, the glassy finish makes the phone a bit slippery to hold, and the tapered sides don't actually facilitate the grip, either. You get used to the exact pressure required to hold onto your precious U Play with time, but this thing would certainly be more manageable with a case on, as it's also a bit wide for its screen size. Speaking of which, screen-to-body ratio of 70% is nothing to write home about these days, and the U Play could have benefited from some slimming of the bezels all around.
HTC has provided a touch finger scanner/home key combo underneath the display, and two capacitive back and menu keys are flanking it. They all work well, and folks who prefer their fingerprint reader at the front would appreciate the HTC U Play navigation setup.
There is a single speaker at the bottom, and two mics for noise cancellation at the upper and lower sides. Thankfully, HTC has gone with a USB-C port for charging or data transfer at the bottom of the U Play. That also serves as audio connection, since there is no standard 3.5mm jack. The metal power key and volume rocker on the right are conveniently sized and placed, easy to find and press without looking, and with good tactile feedback.
Display
With a 5.2" LCD panel at 1080 x 1920 pixels resolution, HTC leaves little to be desired in the display department. The screen is sufficiently bright, vivid, and with more than enough pixel density for any task you might throw at it.
It leans a bit on the cold side, though, and you are getting some oversaturated greens in the process, but it does have a color tone adjustment slider in the settings, if you want to bother. Outdoor visibility is about average, since the brightness is high enough, but reflectivity is a bit too high for enjoying the panel under direct sunlight.
Display measurements and quality
Recommended Stories