Google Glass teardown reveals 570mAh battery
1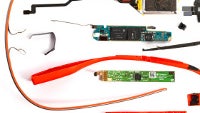 Google Glass
, the wearable heads-up display, has already arrived in the hands of the first developers and they have been testing it for quite a while now. Until now, though, we haven't seen what is Glass exactly made of, what is the silicon that makes it tick and what are the optics it uses to project things right above your usual point of eyesight.
Getting Glass is only possible for select 'Glass Explorer' developers and it is a whole ritual just getting one. The developer has to go in person to receive the unit and goes through a 45-minute walkthrough with a Google employee. In the box there is a:
Tinted shield
Clear shield
Charger / AC adapter
USB cable
Drawstring soft case
By now, you have probably already seen Glass many times in pictures, but this is the first time you'd be able to peek inside one. Dismantling the unit proved not too hard, and the team who did it even managed to put it back together. Many have been worried about the battery life and it turns out Glass has a non-replaceable 570mAh single-cell lithium battery. Hit the source for all the tiny details and images of the teardown.
source:
CatWig