Google Glass gets an earbud, here's how it looks
8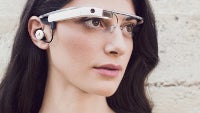 Google recently broke the good news to Explorers - the people who got early access to its Google Glass wearable computer - that they would be eligible to swap theirs for a brand new second-generation prototype. Once the swap program kicks in, Explorers will have 60 days to make the change.
Now, we learn that it will come with an optional mono earbud that will be connected to Glass with a cable. The otherwise clean and modern design of Glass is inevitably spoiled a bit as this looks clunky and weird, but it's an optional accessory and you can choose whether you want to use it or just use Glass as before. The new earbud comes in addition to the bone-vibrating speaker built inside Glass.
Earlier, Google announced that it will be making Glass compatible with certain prescription glasses and sunglasses models. That's great news for people that wear prescription glasses on a daily basis, and would be able to augment their experience with Glass.
The company also expands its Explorer program allowing each Explorer to invite three more people to get access to the $1500 Glass.