Galaxy S6, S6 edge in South Korea are being updated with Note5, S6 edge+ features, here's what's in tow
17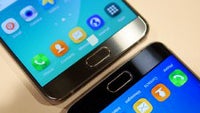 Exactly a week ago, Samsung unveiled the
Samsung Galaxy Note5
, the newest S Pen-flaunting phablet to further broaden the borders of multitasking, and a
Galaxy S6 edge+
, which is actually a supersized
Galaxy S6 edge
. Naturally, said new phones come with features that are were not available on the
Galaxy S6
and
S6 edge
initially, but this is reportedly a subject to change.
It seems that firmware updates (G925SKSU2COH7 for the S6 edge and G920SKSU2COH7 for the S6) are rolling to Galaxy S6 and S6 edge users in South Korea, bringing a number of the S6 edge+ and Note5 features to their devices.
In particular, the firmware update comprises Samsung Pay, the company's payment system, Apps Edge, a new feature that allows you to launch up to 5 predefined apps from a side-loading pane (it will be available on the S6 edge only), UHQ upscaler and Vacuum Tube Amp Pro (audio-enhancing software features), a minor update to Samsung KNOX, YouTube Broadcasting Mode, and last, but not least - slightly revamped UI and icons.
Alas, some of the more compelling software features of the Note5 and the S6 edge+, i.e. the ability to shoot RAW images and control the speed of the camera shutter, are sadly missing in action. Here's to hoping that these will make it to the S6 and S6 edge in a timely manner.
Despite that the firmware update is currently rolling in South Korea, it has been intercepted and available for just anyone with a compatible device to — Galaxy S6 (SM-G920S) or a Galaxy S6 edge (SM-G925S) — to give it a spin. Follow the source link for more info on how to flash the firmware update.