Samsung Galaxy Note 10 5G will reportedly have three different storage configurations
7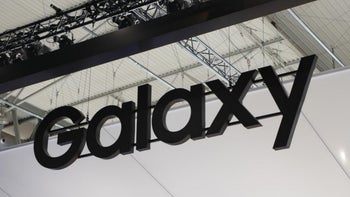 As we get closer to the August 7th date of the next Samsung Unpacked event, more information about the
Samsung Galaxy Note 10
and
Samsung Galaxy Note 10+
leak out. Today,
SamMobile reports
that it has heard from one of its sources about the amount of storage that will be included with different configurations of the Samsung Galaxy Note 10 5G. The phone will be equipped with 256GB, 512GB, and 1TB of storage with the latter model featuring 12GB of memory.
While originally it was thought that Samsung would introduce both 4G LTE and 5G models of both the Galaxy Note 10 and Galaxy Note 10+, that thinking has changed. Now it appears that there will be one 5G enabled Galaxy Note 10 model based on the specs of the Galaxy Note 10+. This will
reportedly be a Verizon exclusive in the U.S.
and the storage leak dovetails with an earlier benchmark test of a Verizon Galaxy Note 10 5G that was equipped with 12GB of memory.
The Samsung Galaxy Note 10 5G will support 45W fast charging although a 25W adapter will be in the box

Just the other day, a report from Germany indicated that the base model of the 4G LTE version of the Galaxy Note 10
will be equipped with 256GB of storage
. That unit is expected to be priced in the neighborhood of $1,000 while a model with 512GB of storage will cost $1,150. But we digress.
The Galaxy Note 10 5G will be equipped with a 6.75-inch curved Super AMOLED display with very thin bezels and a punch-hole selfie camera in the center of the screen. The Snapdragon 855 Mobile Platform will power the U.S. version of the phone. The triple-camera setup will include a 12MP primary camera possibly with three-stage variable aperture, a 12MP telephoto camera with 2x optical zoom, and a 16MP Ultra wide-angle camera. There also will be a Time of Flight (ToF) sensor for more accurate depth readings. This should allow the phone to take portrait shots with a better bokeh effect. As for the battery, there is no doubt that Samsung wanted a 4500mAh battery inside, similar to what is available on the
Galaxy S10 5G
. However, Sammy had to make room for the S Pen's housing which forced it to reduce the capacity of the battery to 4170mAh on the Galaxy Note 10 5G. While a 25W fast charger will come in the box with the phone, according to tipster Ice Universe, the handset will support 45W wired charging and 20W wireless charging. Samsung will offer an optional 45W fast charger at a price.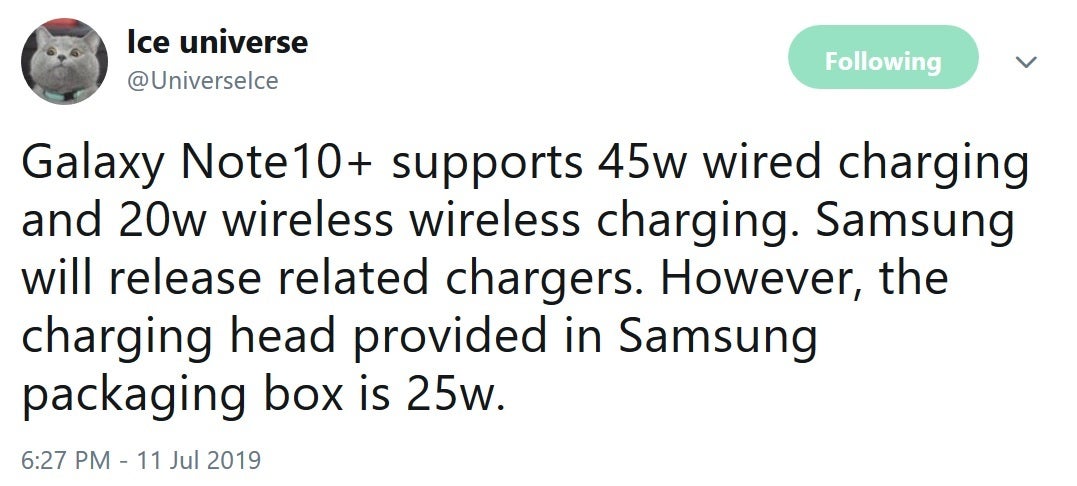 The Galaxy Note 10 5G should support 45W charging although a 25W adapter will be in the box
The Galaxy Note 10 5G will launch with Android 9 Pie and Samsung's One UI interface pre-installed. Designed for today's large, tall and thin displays, the latter places most of the clickable elements at the bottom of the screen so that the user won't have to dislocate a finger to reach an option placed at the top of the display.
Verizon's 5G network is currently available in parts of Chicago, Minneapolis, Denver, and Providence. The next batch of cities to receive service will include:
Atlanta, GA
Boston, MA
Charlotte, NC
Cincinnati, OH
Cleveland, OH
Columbus, OH
Dallas, TX
Des Moines, IA
Detroit, MI
Houston, TX
Indianapolis, IN
Kansas City, MO
Little Rock, AK
Memphis, TN
Phoenix, AZ
Salt Lake City, UT
San Diego, CA
Washington DC
Verizon calls its 5G service Ultra wide band 5G as the carrier will be using high-frequency mmWave spectrum in the 28GHz range; such high-band airwaves do not travel as far or penetrate buildings, as well as lower-band airwaves, do. Both T-Mobile and AT&T will be using mmWave and sub-6GHz spectrum. Recently, T-Mobile and Qualcomm announced that they had
completed the first 5G data call over T-Mobile's 600MHz low-band airwaves
.
5G is 10 times faster than 4G LTE. Once established nationwide, this faster speed should allow for the creation of new businesses and industries that we can't even conceive of today. Movies that take minutes to download on a phone will take seconds and self-driving cars will take you to your destinations.