Facebook makes changes to protect members; 87 million profiles used by Cambridge Analytica
9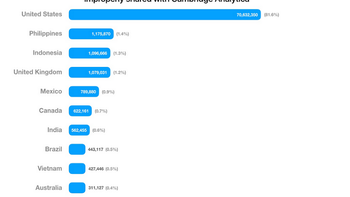 One week before its co-founder and CEO Mark Zuckerberg testifies before the House Energy and Commerce Committee, Facebook revealed some more damaging information. It actually turns out that 50 million members did not have their profiles used by Cambridge Analytica without permission. Nope. A blog post written by Facebook chief technology officer Mike Schroepfer, mentions near the end of the post that the actual number is 87 million.
The 87 million profiles were supposed to be used for research only by Russian-American researcher Aleksandr Kogan. The data ended up in the hands of political consultant Cambridge Analytica, which was hired by the Trump campaign to determine with surgical precision where money needed to be spent on ads. The results of the 2016 election showed how well Cambridge Analytica's data mining worked. After all, Hillary Clinton received 3 million more popular votes than Donald Trump, but the latter won the Electoral College by 40,000 well-placed votes. Facebook will alert those members whose profiles were used by Cambridge Analytica starting next week.
In his blog post, Schroepfer says that most Facebook users had their profile data scraped by malicious actors who used account recovery and search tools allowing them to find people by phone numbers and email addresses. Information was then collected from their Facebook profiles.
"Until today, people could enter another person's phone number or email address into Facebook search to help find them. This has been especially useful for finding your friends in languages which take more effort to type out a full name, or where many people have the same name. In Bangladesh, for example, this feature makes up 7% of all searches. However, malicious actors have also abused these features to scrape public profile information by submitting phone numbers or email addresses they already have through search and account recovery. Given the scale and sophistication of the activity we've seen, we believe most people on Facebook could have had their public profile scraped in this way. So we have now disabled this feature. We're also making changes to account recovery to reduce the risk of scraping as well."-Mike Schroepfer, CTO, Facebook
To prevent this from happening again, Facebook will change how account recovery works, and will disable the search tool. It also will limit the amount of data available to third party apps. Last week, Facebook said that it would
no longer allow advertisers to use data provided by third parties to target advertising
. Next Monday, Facebook users will see an option on top of their News Feeds that will show them which apps have access to their personal information.
Facebook will now require apps to get approval from Facebook before they can access Groups, Pages and check-ins. Names and profile photos of members in a group are now off limits to apps, as are the guest lists for events. Android users who subscribe to Messenger and Facebook Lite who choose to allow Facebook to keep track of their call and text history will have call logs older than one year automatically deleted. Recently, a number of Android users found that
Facebook was keeping track of their calls and text messages for several years
.
source:
Facebook