Facebook kept track of calls and texts sent by users with an Android phone
48
Facebook co-founder and CEO Mark Zuckerberg has a lot of explaining to do. The social networking site has been
lambasted in the media for possibly violating a 2011 consent decree with the FTC
that prevented it from giving out information about subscribers without their permission. But the latest bomb to strike might be the most damaging. A man living in New Zealand was looking through the data that Facebook had collected about his contacts when he discovered something rather shocking. Facebook had tracked two-years worth of phone calls that were made from his Android phone.
The data included in the listing not only revealed if the call was incoming or outgoing, it also listed missed calls, the name of the person on the other end of the line, the length of the call, and the date and time it was placed. You can see what a call log looks like by viewing the image at the top of this story. And others have discovered this same thing when they requested a zip file of the information collected on them by Facebook over the years. A spokesman for the beleaguered company said that it is common practice for a messaging or social media app to upload your phone contacts the first time you log into such a site. This is done to make it easy for you to contact the people you have contact with. The spokesman went on to say that contacts uploading is optional although installing Facebook does require that you grant permission to Facebook so that it can access your contacts.
According to Facebook, your contacts are used for its friend recommendation algorithm. And if you agreed to allow Facebook to access your contacts list prior to Android 4.1, you were giving the company permission to see your call and text logs by default. This practice was eventually eliminated with version 16 of the Android API, although Facebook could still access phone and SMS records by citing an earlier Android SDK version. The tracking of calls appears to have ended in late 2017.
You might want to request that Facebook email everything in your archive since it also includes the name of advertisers that it has shared your data with. To have your archive sent to you, go to your desktop browser and open your Facebook account. Press on the upside down triangle at the top of any Facebook page, and click on
Settings
>
Download a copy of your Facebook data
>
Start My Archive
. Make sure you have some smelling salts before you open the email from Facebook that contains your archive.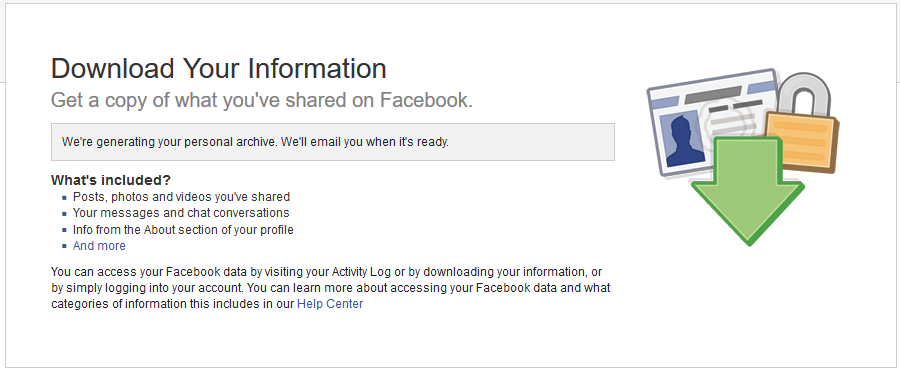 Request your archive from Facebook to see what information it is holding about you
source:
@dylanmckaynz
via
ArsTechnica
Recommended Stories