Clove UK to offer the LG Optimus 3D starting on June 6 for $750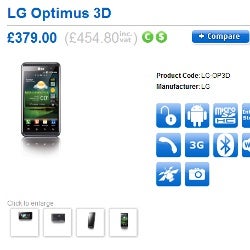 Clove UK officially announced that it will offer the first 3D phone - the
LG Optimus 3D
- starting on June 6 for $751 (£454.80). This price includes all local taxes, while the launch date is "subject to change".
Although the rest of its specs are pretty good, there is no arguing that this Froyo-equipped phone is all about 3D - the ability to bring the 3D world to your 4.3-inch screen, the chance to snap 3D photos and record 3D videos.
The LG Optimus 3D is set to debut in the US market with the
AT&T brand under the LG Thrill 4G name
. It's also speculated that this phone will be available to
T-Mo's customers
at some point in the future.
For more information on this handset, go this way for our
LG Optimus 3D Hands-on
.
source:
Clove UK