LG Optimus 3D Hands-on
26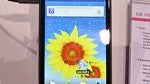 3D has been the "next big thing" in the TV industry in the last years, so an interesting question comes to our minds – has the time come to see it in phones? LG definitely thinks so, and during MWC 2011, it introduced its first cell phone to promote this feature - the
LG Optimus 3D
.
So, what do we need for 3D? First of all, we need 3D content (whether it is video, picture or game), and then we need a compatible screen or glasses to experience it. The LG Optimus 3D has both - it has a camera setup that captures 3D and a screen that displays it so you can watch it even without glasses. So, let's check it out...
The LG Optimus 3D is one of the top Android smartphones in terms of processor specs - LG claims that its dual core, dual channel and dual memory platform is way more powerful than other "simply" dual core phones. We ran Quadrant benchmark on one of the prototypes here at MWC and it scored some
2800 points
. This is not only higher than the
Samsung Galaxy S II
's or
Optimus 2X
's scores, but it is actually the highest score we've seen to date.
LG Optimus 3D Benchrmark:
The TI OMAP4 chipset inside has some tricks up its sleeve, like a PowerVR SGX540 graphics, which are clocked at 300MHz, 50% higher than what we have in the Samsung Galaxy S, thus delivering 50% more performance, and this is clearly visible in the tests - it is faster than even the GeForce GPU in Tegra 2. The Optimus 3D also has
512MB
RAM, and it uses dual-channel
LPDDR2
memory controller, which speeds up things quite a bit as well. To top it all off, TI makes some of the most power-efficient mobile chipsets, and LG put a standard
1500mAh
battery in, so it is obviously kosher with the battery life on the Optimus 3D.
We shouldn't count too much on the benchmarks, however, as sometimes they may not reflect the responsiveness of a phone. Still, this device sure has excessive power, which we guess is needed for its 3D capabilities.
Speaking of 3D, let's get back to the screen. It is
auto-stereoscopic
, which means that you can watch 3D content without the need of glasses. You just have to play a video and it pops out. The first time we saw it though, we were not really sure how "real" this 3D effect is. It reminds of these old stereo pics, but still, it is definitely better, and we can say that it is indeed true 3D. A few minutes of watching and you will notice these cool 3D effects with some objects "getting out of the screen" and staying in front of the others. It's cool, but we will keep our final judgment on how great this is, until we get to test a unit for a longer time.
One of the drawbacks of this type of parallax 3D technology however, is that when 3D is on, the resolution of the screen drops significantly, resulting in a not very impressive picture. Otherwise, the display is
4.3" LCD
with
480x800
pixels
resolution, which are some pretty decent specs, but once again, when viewed in 3D mode and in landscape, the effective resolution seems to be more like 400x480 pixels (half the actual width). Still, we remind you this is a prototype and when we test the final unit, our opinion may change (a bit).
LG is using its own IPS LCD tech for the main display, and the parallax barrier overlay is LG's creation too - it can be turned on or off (the UI is plain 2D, for example), or its intensity changed with a virtual slider, depending on the app or menu you are in. There are optimal viewing angles and distance, out of which the 3D effect fades out, but they mostly cover the way you usually interact with your phone, so no complaints.
3D interface
is present with the click of LG's
3D Hot Key,
which fires up a carousel with five 3D-dedicated UIs, like Gallery, Camera, Games&Apps, YouTube 3D, and 3D Guide. The YouTube 3D app is exclusive to the LG Optimus 3D - YouTube marks with a small 3D sign its three-dimensional videos, and when clicked, they play in landscape on the phone, with the parallax barrier enabled. Alternatively, the ones you shoot with the phone, can be uploaded to YouTube's 3D channel via the same app.
The other 3D component is the camera. There are two lens on the back with the flash in the middle. If you shoot 3D it will be able to capture 2MP photos and 720p videos; in 2D, it takes
5MP
photos and
1080p
videos. The front facing camera is not 3D. :)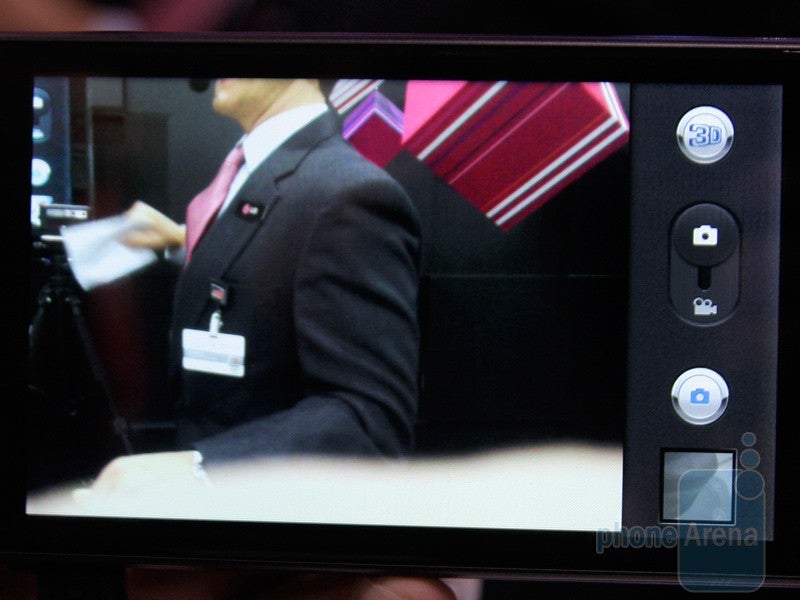 Turn off the 3D mode and this is your ordinary bulky high-spec'd smartphone. It is 12mm thick, runs
Android 2.2
(no info of 2.3 update, but we hope so!) and has a funny LG personalization to the interface. Don't get us wrong, it doesn't ruin the experience, but TouchWiz is still better, leave alone HTC Sense.
In a nutshell, this IS the first 3D smartphone. It is powerful. And bulky. We are not in love with it, but having one more "new" thing coming into the realm of phones makes us very happy. Good work, LG, we are looking forward to testing a final review unit!