LG Optimus 3D (Thrill 4G) Review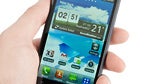 Introduction:
The
LG Optimus 3D
, expected to hit AT&T shores as the
LG Thrill 4G
, aims to deliver more than most other high-end devices do. With its
dual-core processor, dual cameras and dual-channel memory
, it scores a
triple double
, but will this be enough for it to get noticed in the packed high-end Android space? The dual-core TI OMAP4430 chip is one of the most capable dual-core performers we've seen and coupled with 512MB of dual-channel memory it makes the Android experience buttery smooth. Then there's 3D – the 4.3-inch screen does an excellent job of displaying
glasses-free 3D
, while the two rear cameras will help you create your own three dimensional content. Factor in full HD 2D video recording, and you get the strengths of the Optimus 3D, but it has its weaknesses as well – it's bulky, comes with Android Froyo instead of Gingerbread and the overall photo quality disappoints.
Design:
The LG Optimus 3D tips the scales at 5.93 ounces (168g) and has a considerable girth of 0.47 inches (11.9mm). Sure, the tri-dual muscle justifies this to a certain extent, and the bulkiness does make it look solid in the hand, but the phone definitely
feels obese
by today's standards.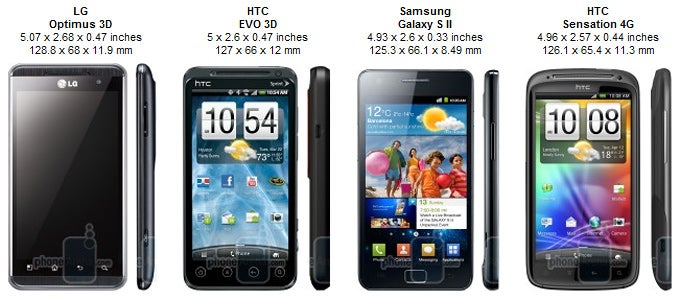 You can compare the LG Optimus 3D with many other phones using our
Size Visualization Tool
.
The
4.3-inch LCD screen
with resolution of 480 x 800 pixels is key to the success of the 3D-centric phone. After all, it's one of the front-runners of 3D parallax displays on a phone along with the HTC EVO 3D. When in standard 2D mode, the screen has good viewing angles, but a slightly disappointing direct sunlight legibility.
But how does glasses-free 3D work
? A long press on the 3D button on the right triggers the magic and the screen activates the parallax barrier to feed your eyes with 3D images and videos, which you can see without glasses. The parallax technology works through an extra slit plate atop the standard screen, which blocks part of the picture for each eye, so you see a slightly different variation of the same image with each of the eyes. It yields great results with some limitations - you'll have to be willing to sacrifice quality as you only get to see half of the horizontal resolution and you have to look straight at the screen. Looking from the side, you'll only see shades and won't get a sense of depth, which means that only one person at a time can enjoy 3D.
We got to show the 3D effect to unprepared viewers and the initial reaction was extremely positive. But while initially everyone is impressed with the added depth and realism of a 3D image or video, after spending a couple of minutes looking at 3D content feelings were mixed. We felt slightly tired after a couple of minutes, down to really dizzy after a couple more, so we ended up not using the feature extensively and relying more on the traditional 2D mode. The reaction to 3D seems to vary across people with some more tolerant, while others less tolerant to those after-effects, so we'd recommend you spending a couple of minutes with either the handset or the samples below to see how you handle 3D.
Taking your eyes off the
screen
, you'd notice the plastic build of the LG Optimus 3D. It comes with a soft-touch coating on the back and a brushed metal-like finish up front. Those cover ups make it feel less plasticky, which is a good thing. Below the screen there are four
capacitive buttons
giving you solid haptic feedback.
design
, the phone looks big, bulky, but well built and almost too serious with its down-to-business looks and boring grayish colors. If you don't mind its obese waistline and considerable heft, you'd be rewarded with a phone packing plenty of muscle and functionality.
LG Optimus 3D 360-degrees View: