AT&T steps into the third dimension - the LG Thrill 4G 3D-enabled smartphone announced
9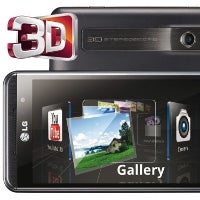 No, it's not a tribute to MJ, although it very well could be - AT&T just announced its first 3D-enabled smartphone, the
LG Thrill 4G
, which, as the name implies, has HSPA+ radio to boot.
The phone is obviously the first US version of the
LG Optimus 3D
to be announced, and features a glasses-free 4.3" parallax barrier LCD display with 480x800 pixels, blazing fast 1GHz dual-core TI OMAP4 chipset, and two 5MP cameras on the back that allow for stereoscopic stills and video capture. The frame rate is 30fps for 1080p Full HD in 2D mode, and 24fps for the 720p HD 3D video capture.
The LG Thrill 4G will come with 8GB of internal memory plus 8GB microSD card, and feature something called "LG 3D Space" - a hub for 3D movies, pictures and games. If the LG Optimus 3D we tested at the MWC Expo last month is any indication, a YouTube 3D app might also be present on AT&T's handset. Here's how the LG Thrill 4G should look like, based on our Optimus 3D hands-on:
While 3D is not everyone's must-have feature, bear in mind that the LG Thrill 4G is graced with what turned out to be the most powerful dual-core chipset on a phone, with dual-channel memory, and it also sports HDMI output and DLNA, for wired and wireless streaming. So even if you turn off 3D, you are still left with one very, very capable handset. In fact,
we scored
2800 on Quadrant
with it even as a prototype. Watch a short demonstration of the LG Optimus 3D's capabilities the rep did for us at the MWC Expo last month to gauge what can be expected from the LG Thrill 4G for AT&T:
While most were expecting the first 3D-enabled smartphone to appear in the US with T-Mobile, considering how tightly knit the carrier is with LG, AT&T shouldn't come as a surprise in light of the recent developments with the merger.
Obviously AT&T has decided to cast the iron while it's hot, and steal the attention at the CTIA trade show that starts tomorrow all for itself, as Verizon did at CES with its LTE handsets. Price and availability for the first 3D handset to be announced in the US are soon to follow from AT&T.
What do you think about the LG Thrill 4G? Have you dismissed 3D as a gimmick, or are you itching to try it out before you pass a final judgment?
source:
AT&T