BlackBerry PlayBook priced from $399
4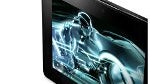 A leak suggests that
the BlackBerry PlayBook
will be available in three different flavors with prices starting from $399 for an 8 gig version. The figure is far from being official, but sounds credible as it confirms word spread by RIM co-CEO Jim Balsillie that
the price will be under $500
.
The PlayBook, marketed by RIM as the "professional tablet", will come in three versions differing only in storage capacity:
BlackBerry PlayBook 8GB for $399
BlackBerry PlayBook 16GB for $499
BlackBerry PlayBook 32GB for $599
All the three models are rumored to be absolutely identical except for the memory storage. Somewhat surprisingly, the professional tablet will have only Wi-Fi and no carrier connectivity on board. Meaning that you would either have to rely on your nearest hotspot to go online or use your 'Berry to tether the PlayBook to its network. It is worth mentioning that RIM has hinted that in the future the professional tablet might get mobile data connectivity.
The pricing, if it stays like this, will be on par with Apple's iPad, which starts at $499 for a Wi-Fi-only 16GB version. However,
Black Friday deals
are just hours away and you might be able to grab Apple's tablet for less somewhere. But it is way too early to compare the two, as the PlayBook is rumored to launch in mid-February 2011 and by that time the tablet landscape is sure to change.
source:
Mobility Insider
Recommended Stories