RIM BlackBerry PlayBook Review
24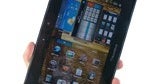 Introduction:
Attempting to fathom what's going on within the inner bowels of RIM's circle is undeniably difficult, but taking into account the rash of competition continually eating up their piece of the pie in the smartphone market, it makes you wonder how they'll be able to fully sustain other ventures outside their comfort zone. Although some might believe that RIM is falling on deaf ears in regards to their line of smartphones, we've actually seen the Canadian company more recently adapt to changing the nature of their game to better position itself in this competitive landscape.
In fact, the BlackBerry Torch 9800 was indeed the fresh change of pace for them, but as we've seen, it wasn't quite the polished new experience they'd hope to be embraced openly by the public. Rather, it seemingly reiterated the stubborn stance branded to them by consumers seeing that it failed to keep up with the fast pace nature of its competitors' platforms. As we all know with any missed opportunities, there is always a period when companies look back to see what could've been done to change the outcome – and that's exactly what appeared to happen with RIM.
Moving outside of their traditional comfort space, RIM is embarking on a new venture into untested waters with their BlackBerry PlayBook. Dubbed as the first "professional grade tablet," RIM is placing a lot of attention to their bread and butter set of business customers with this one, however, they're chiming in at a time where standards are elevated ever so high by the competition already. Naturally, the PlayBook's starting cost of $499.99 will no doubt keep it competitive, especially when it features a ton of contemporary high-end specs, but ultimately it's going to come down to execution and functionality to determine its true value. Facing uncertainty right in the face, the BlackBerry PlayBook might just be the device to signal the rebirth that RIM is so desperately looking for right now – so let's find out if it's waiting for them!
The package contains:
RIM BlackBerry PlayBook
microUSB Cable
Wall Charger
Neoprene Sleeve
Cleaning Cloth
Getting Started Card
Safety & Product Information Booklet
Design:
At this point, there's no arguing that there is a lack of variety in terms of tablet designs – which is quite evident from the slabs we're accustomed to seeing. However, the BlackBerry PlayBook manages to come off as a decent looking tablet with its straightforward design approach and solid construction. Neither boring or captivating, the rectangular sized PlayBook appears to look very ordinary from a cursory glance, especially with its evenly sized bezel, rounded corners, and hard lines. Luckily though, we adore its immaculate clean looks thanks to its venerable soft touch matte back cover that does wonders to repel dirt and debris. Moreover, we're surprised to see some weight (14.11 oz) accompanying this relatively thin (0.39" thick) tablet, however, it essentially contributes to its solid construction. Compared to some of the other plasticy 7" tablets out there on the market, the BlackBerry PlayBook easily manhandles them in almost every way thanks to its balanced design and high premium feel.

RIM surely didn't waste any time to properly grace the PlayBook with a high quality
display
, and rightfully so, we're utterly mesmerized with its brilliant glow. Accompanying its sheer luster is its reasonable resolution of 1,024 x 600 pixels, though not mind bending, it provides enough detail to captivate anyone from a far glance. Naturally, its high pixel density count places enough emphasis on just about everything to concretely deliver sharp visuals that are enlightening to the eyes. And complementing its detailed stature is none other than its natural looking color production that seems to pop with its juicy and iridescent looking palette. Finally, it's still visible even under the most demanding conditions outdoors under the sun – and it only requires being placed at approximately 75% brightness. Impressively, there's no denying the fact that the PlayBook employs probably one of the best looking displays to grace a tablet thus far.
In keeping a slim profile, there are actually very few buttons clinging onto the
sides
of the PlayBook – which again contributes to its overall clean looks. Conveniently placed dead center on the top edge of the tablet is a row of slightly raised buttons for the
media functions
of the tablet – these include the volume up, down, and pause/play keys. Although we're accepting of the reasonable amount of feedback exhibited by them, we're not particularly too fond of the nearby dedicated
power button
's super tiny size and near dead response. In fact, it's undeniably the worst power button we've come across with a tablet. Additionally, the 3.5mm headset jack and microphones are also found on the top edge as well.
Placed close to the left and right sides of the PlayBook's display are the speakers which provide stereo output, while the
3-megapixel front facing camera
, LED indicator, and light sensors are positioned above the display.
Both the
left and right edges are completely clean
, but we find a few connection ports appropriately lining the
bottom portion
of the PlayBook. Obviously, the microUSB port is used for the data connection and charging mechanics of the tablet, but as an alternative, the three prongs next to it provide faster charging when they are connected to the optional dock/wall rapid charging accessories. Finally, the only thing left to complete its multimedia prowess is its microHDMI port – which allows you to connect it to a high-definition television and watch full 1080p videos stored locally on the tablet.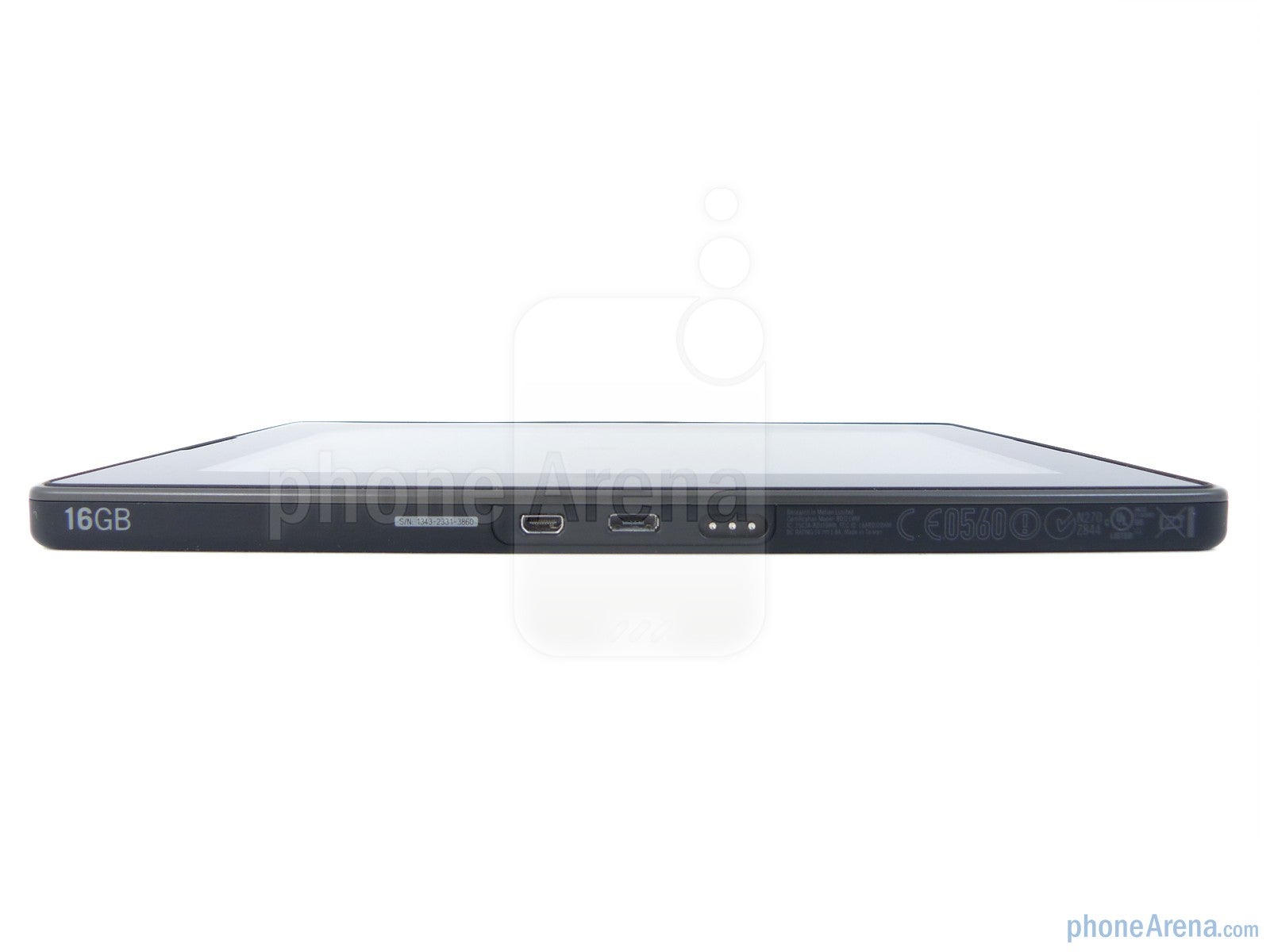 Connection ports on the bottom edge of the RIM BlackBerry PlayBook
Aside from the instantly recognizable BlackBerry logo placed squarely on the clean looking
back surface
, the only other anomaly is the circular cutout for its 5-megapixel camera. Sadly though, it lacks auto-focus and an LED flash to essentially keep it in contention as a photo taking monster. And much like other tablets we've seen, we're completely locked out from easily accessing any of its internal components – meaning, you'll need to have it serviced in order to replace its battery.