BlackBerry PlayBook will get an under $500 price tag
2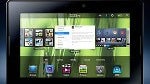 BlackBerry's 'professional tablet', the PlayBook, will get a price tag of under $500 at its launch in Q1 of2011, co-CEO of RIM Jim Balsillie shed some light on the upcomingiPad rival.
Balsillie gave the figure as areference rather than an exact number, stressing on the competitivepricing of the device. If it was to be launched anytime sooner, the7-inch tablet would be on par with Apple's Wi-Fi-only iPad andwould undersell the $599 3G Galaxy Tab by Samsung.
BlackBerry is aiming to release thetablet in Q1 in North America through retail stores like Target andBest Buy on one hand and service providers on the other. Globally,the PlayBook will be made available in Q2 of 2011.
An all-new BB Tablet OS and polisheddesign give the PlayBook its professional allure, however it is muchsmaller than the 9.7-inch iPad and lacks developer support. Eventhought it is way too early to decide who will rule the tablet marketin Q1 of 2011, BlackBerry's bid has the specs and the pricing to try.
source: Bloomberg via Engadget