BlackBerry 10 is the latest platform to receive Piip Messenger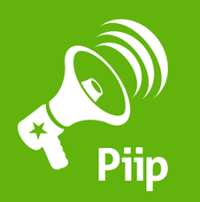 Piip Messenger, a free cross-platform messaging service, has finally hit the BlackBerry 10 mobile OS. Available on a plethora of major mobile and desktop platforms, Piip allows you to easily switch between them on the go and "continue your conversation from where you left them off".
Just like other instant messengers, Piip does not only allow its users to easily send text messages between one another, but pictures and files as well. Sharing contact information and current map location are available, too. The developers of the app say that video sharing is in the works and it will be added very soon via an upcoming patch. The instant messenger supports group chats and allows users to "spice up" their conversations with various emojis and emoticons, too.
Piip is also touted as being very easy to setup. Similar to other messengers, such as Viber and Whatsapp, the cross-platform Piip uses your phone number as an identification and automatically scans your phone book for other contacts that also use the service.
Piip Messenger is completely free to use and the developers claim that it will always remain this way. The instant messaging app is also available on iOS, Android, and Windows Phone devices, and it is stated that the developers will "release versions for further mobile platforms".
Download: Piip Messenger (
BlackBerry
|
iOS
|
Android
|
Windows Phone
)
via:
BerryReview