Bing predicts that the New England Patriots will win Super Bowl 51 in a close game
17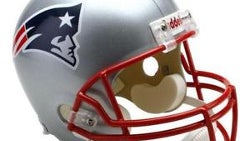 Bing's sports prediction algorithm has been scary good at times. For example, during the 2014 World Cup
it predicted the winning team in 14 consecutive games
. Back in 2015, Bing called for
the New England Patriots to beat the Seattle Seahawks in the Super Bowl 24-23
. We know how that game ended; Seattle was stopped from the Pat's one-yard line as the clock ran out. The final score, 28-24 in favor of New England, was darn close to Bing's prediction.
So now it's two-years later and the Patriots are back in the Super Bowl. Despite losing QB Tom Brady for four games to start the season (thanks to his Deflategate suspension), once again the Pats were the class of the AFC. Their foe, the Atlanta Falcons, shut down the streaking Green Bay Packers to qualify for the big game. And as billions of dollars have been wagered on all aspects of the Super Bowl (the over/under on Trump tweets for Sunday is 7.5 and that is not fake news), Bing has revved up its algorithm and predicts that the Patriots have a 52.3% chance of winning the game. Sounds like a close game is in store.
Keep in mind that out of all 266 regular season and playoff contests played so far in the 2016-17 season, Bing had the winner in 169 of them. That works out to a winning percentage of 63%. It took a strong second half of the season (72.2% win percentage) for Bing to achieve that 169-97 record.
Super Bowl 51 kicks off at 6:30pm ET Sunday from Houston's NRG Stadium. About four hours later, we should know if Bing scored another win.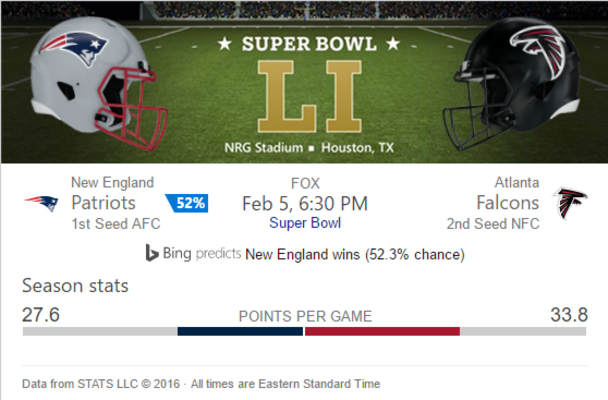 Bing says that the Patriots will win Super Bowl 51
source:
Bing
via
MSPoweruser