Graphic designer envisions the iPhone 8
65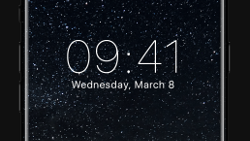 We've all heard about the rumored specs for the
Apple iPhone 8
, such as the curved edge-to-edge AMOLED screen that practically covers the entire front of the phone. Touch ID is either embedded in the display, or replaced by a face detection system
using a "revolutionary" front-facing camera
to unlock the phone and to provide verification. The size of the OLED screen
is said to be 5.8-inches, although some of that is earmarked for the embedded home button
. The active display will be approximately 5.1 to 5.15-inches.
Earlier today, we told you about
a
report out of Japan that said there will be a delay in the release of the Apple iPhone 8
(aka iPhone X or iPhone edition). According to
Macotakara
, Apple is still working out the design of the unit and is testing various combinations of parts and materials. While the iPhone 8 could be unveiled with the rest of the 2017 iPhone line in September, it might not be released until November.
With that in mind, we are probably months away from seeing a proper leak of the device. To wile away the time, graphic designer AlHasan Husni has put together a mockup of the Apple iPhone 8 that is based on the rumored specs. Husni even included a "dark mode" for iOS 11 that many iPhone users have been hoping for. The mockup allows users to swipe right on the function area to access multitasking mode, and the virtual home button includes haptic feedback. Would you be happy if the tenth anniversary iPhone looks like Husni's mockup? You can check out the images by clicking on the slideshow below.
source:
Dribble.com
via
BGR