Nikkei confirms: Apple iPhone 8 to feature 5.8-inch OLED screen
52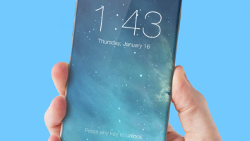 Japanese news agency Nikkei has backed away from a previous story in which it called for the tenth-year anniversary edition of the Apple iPhone, dubbed the
iPhone 8
, to carry a 5-inch OLED display. In a new report released today, the news agency said that the iPhone 8 will have the largest screen of the three new models expected to be released in 2017. Nikkei is now matching predictions made by others including KGI Securities reliable Apple analyst Ming-Chi Kuo.
Nikkei's new forecast is for the iPhone 8 to carry a 5.8-inch OLED screen. There will be a 4.7-inch
Apple iPhone 7s
and a 5.5-inch
Apple iPhone 7s Plus
. The latter two models will continue using LCD panels. It is the same forecast made by Kuo, who also expects all new 2018 iPhone models to feature OLED panels.
The latest rumors suggest that calling the iPhone 8's screen 5.8-inches is a misnomer because only 5.1 to 5.15-inches will feature an active display. The rest of the front panel will be a "function area" that replaces the home button with a virtual replacement. That is being done to accommodate an edge-to-edge screen on the handset. In addition, KGI's Kuo says that
the iPhone 8 will feature a revolutionary front-facing camera
that produces 3D selfies, and provides face recognition to unlock the device and to verify identity. The face recognition feature is intended to replace Touch ID instead of relying on a fingerprint scanner.
The Nikkei added that the larger screen size will help raise the average price of an iPhone, which is currently near $700. Earlier
speculation has the iPhone 8 priced at $1,000
, which would make the phone a luxury item. That price could enhance the exclusivity of the device; depending on any cool new features it might sport, the anniversary edition of the iPhone could very well be a "must have" product in spite of the price.
"Consumers have grown accustomed to the usability of the iPhone and its apps, and they regularly upgrade their iPhones even if there are no major improvements in functionality."-Yasuo Nakane, senior analyst, Mizuho Securities
source:
Nikkei
via
AppleInsider