Ming-Chi Kuo sees "revolutionary" front camera for the Apple iPhone 8
94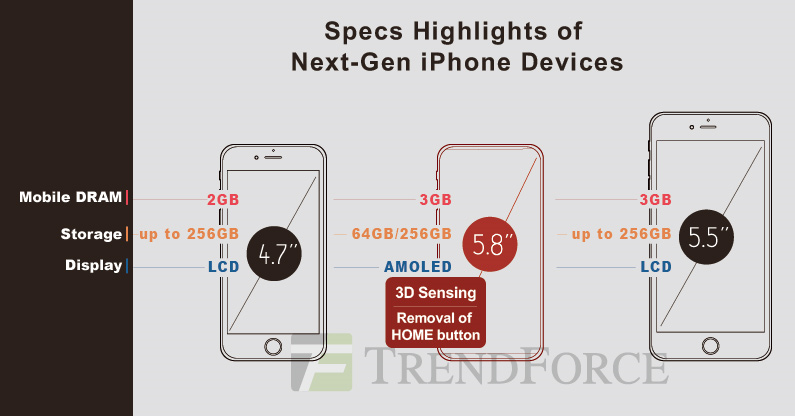 TrendForce estimates some specs belonging to the 2017 iPhone models
A report just released by KGI Securities reveals some new information from analyst Ming-Chi Kuo about the
Apple iPhone 8
. The analyst, who has a reputation for being highly reliable, says that the version of the 2017 iPhone wearing an OLED panel will sport a "revolutionary" front-facing camera and a 3D sensor. The 2D images from the camera will use the new sensor to produce 3D selfies and will also be employed for face recognition.
Ming-Chi Kuo recently said that the iPhone 8 would not have Touch ID embedded under an edge-to-edge display as originally thought. Instead, the analyst said that Apple would use face recognition to unlock the phone and verify information. To that end,
Apple purchased Israeli company RealFace
which has developed a highly accurate system that can even identify identical twins.
Sensors used in the new camera will be able to perform depth of field calculations using a dedicated Infrared transmitter and receiver. According to Mr. Ming, the camera will be produced by Sony with Foxconn's Sharp supplying the infrared receivers. IR signals are sent out from the phone, and then are bounced off objects and are detected using the 1.4MP IR receiver. The report adds that Apple will add 3D sensing rear-facing cameras in 2018 models and beyond. This would allow Apple to get rid of the large dual-camera system found on the
Apple iPhone 7 Plus
. With Apple well ahead of Android in 3D camera algorithms, according to the KGI analyst, the new technology could be unique to the iPhone for some time.
The Apple iPhone 8 is expected to feature a 5.8-inch OLED display, replacing the home button with a "function area" that leaves a 5.2-inch screen for applications. The A11 chipset will be under the hood with optional wireless charging, a larger battery and improved protection from water. The phone is expected to be priced at $1,000.
Another report by TrendForce estimates that production of the 2017 iPhone models (
Apple iPhone 7s
,
Apple iPhone 7s Plus
,
Apple iPhone 8
) will reach 100 million units this year, with the OLED panel sporting iPhone 8 making up the majority of that production. Including all iPhone models manufactured this year, Apple will raise production by 6% to 230 million handsets.
Information from the iPhone supply chain suggests that the iPhone 8 will feature 2K resolution, a first for an Apple smartphone, and will come with 3GB of RAM. Storage options will be 64GB and 256GB. The iPhone 7s Plus will also sport 3GB of RAM while 2GB of the stuff will grace the iPhone 7s.
source:
9to5Mac
,
TrendForce