Apple iPhone 7, iPhone 7 Plus are the most shipped smartphones during Q2 2017
80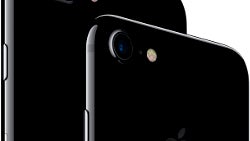 According to fresh data from Strategy Analytics, the
Apple iPhone 7
was the most popular smartphone in the world for the second quarter of 2017 followed by the
Apple iPhone 7 Plus
. Apple shipped 16.9 million units of the 4.7-inch iPhone 7 from April through June, and 15.1 million of the 5.5-inch iPhone 7 Plus during the same time period. The two handsets had 4.7% and 4.2% of the global smartphone market respectively.
In third place was the
Samsung Galaxy S8
, which had 10.2 million units shipped world-wide in the period. The larger
Samsung Galaxy S8+
was next as 9 million pieces of that model were delivered in the three months. As far as market share was concerned, the Galaxy S8 was responsible for 2.8% of global smartphone shipments and the Galaxy S8+ tallied a Q2 share of 2.5%. With a total of 19.2 million Galaxy S8 and Galaxy S8+ units shipped, the model was the best selling Android handset in the world during the second quarter of this year.
Rounding out the top five handsets with 5.5 million phones shipped was the
Xiaomi Redmi 4A
. The number of shipments allowed the device to get credit for a market share of 1.5%. Overall, 360.4 million smartphones were shipped globally in Q2 of 2017. That turned out to be a year-over-year increase of 5.5% from the 341.5 shipped in Q2 of 2016.
source:
StrategyAnalytics
via
AppleInsider