Apple blows past RIM to become the world's 4th largest cell phone company
1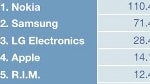 Aided by the 14.1 million iPhones sold in Q3 alone, Apple's market share in the cell phone industry has increased to 4.3%, according to IDC. That places it fourth in terms of shipments after Nokia, Samsung and LG.
Nokia shipped 110.4 million units, affected by components shortage for its low-end handsets,
Samsung
was second with shipments of 71.4 million units (the lowest difference with Nokia on record), and LG Electronics came third with shipments shrinking to 28.4 million units, due to identity troubles in its
mobile portfolio
.
Apple moving up in the world has been for the sake of RIM, now fifth, and Sony Ericsson, fallen from the top 5 for the first time. RIM and Apple, though, are the companies that are doing best in terms of profit margins from their handsets, because they offer unique software experience that can't be easily replicated by the competition - Apple with the App Store, and RIM with its secured email and BBM services.
Who would have thought just three years ago that Apple will be the
most profitable
cell phone company in the world?
via
AppleInsider

source IDC