5 HTC One (M8) features nowhere to be found in the Samsung Galaxy S5
66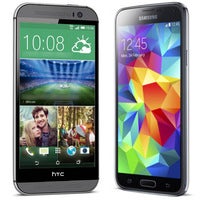 Yesterday, HTC announced its new, heavy-hitting Android smartphone - the One (M8). Today, we're wondering exactly what it is that will let HTC differentiate its product from the dangerous competition that's lurking in the shadows, namely the Samsung Galaxy S5.
Right off the bat, we were able to think of five cool HTC One (M8) features that will be nowhere to be found in the Galaxy S5, once it hits store shelves on April 11. Of course, there might be more, but we've tried to point out the major advantages which we think are going to tip the scales in favor of the One (M8) in some quite important areas. Sure, HTC may not be offering an endless feature list (that's what Samsung is good at), but it's actually delivering quite strongly on some fundamental fronts, such as design and display.
Yes, the Galaxy S5 has its own aces, but this post is all about the neat HTC One (M8) features that the GS5 is going to lack. But let us not spoil the surprise any further - go ahead and check out those features in the gallery below!
READ MORE