All new HTC One (M8) is now official: "Duo" camera is real
23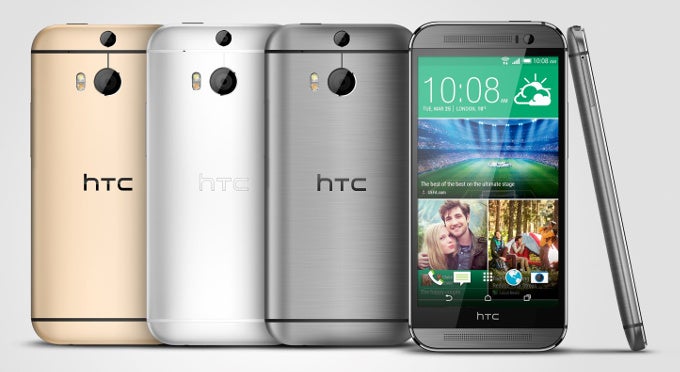 After countless leaks and rumors, the all new HTC One (M8) has finally arrived officially. HTC's new flagship smartphone features the much-talked-about "Duo" camera (it sports two cameras on its back), comes with an upgraded processor and a more intense metal finish.
Moreover, HTC has added a fresh layer of polish to its Sense user interface, it has introduced expandable storage with a microSD card slot, and - best of all - it's putting the device on online store shelves right away (at least in some parts of the world).
Design and Display
The new HTC One (M8) has kept the excellent, sturdy aluminum unibody of the original One, but this time, we have a more intense, brushed metal finish (HTC says it's now using 90% metal material in the case, against 70% in the original One). The new One will also come in Glacial Silver and Amber Gold for a total of three color options. It's almost identical to the original One in terms of design, save for a few changes. The biggest one is that the aluminum body now extends to the sides (while the 2013 HTC One featured plastic side elements), engulfing the whole handset, and the most eagle-eyed readers will notice a strip of plastic at the top of the phone as a new element, which will certainly contribute to the phone's signal and reception.
In terms of size, the all new HTC One has grown slightly bigger and heavier. The new phone has actually gotten a lot taller, but just a bit wider, and it now weighs 5.64 ounces (160g), which puts it among the heaviest 5-inch devices out there.
The new One has also gotten a larger, 5-inch screen with a resolution of 1080 x 1920 pixels (the original One featured a 4.7" 1080p display). HTC has also gotten rid of the capacitive navigation buttons and it's now switched to on-screen buttons.
Up front, the phone features an even more powerful pair of front-facing speakers (HTC claims these are 25% more powerful than the speakers of the original One) that it calls HTC BoomSound. The company reveals that it uses a brand new amplifier and software to make sound even cleaner as well.
Duo camera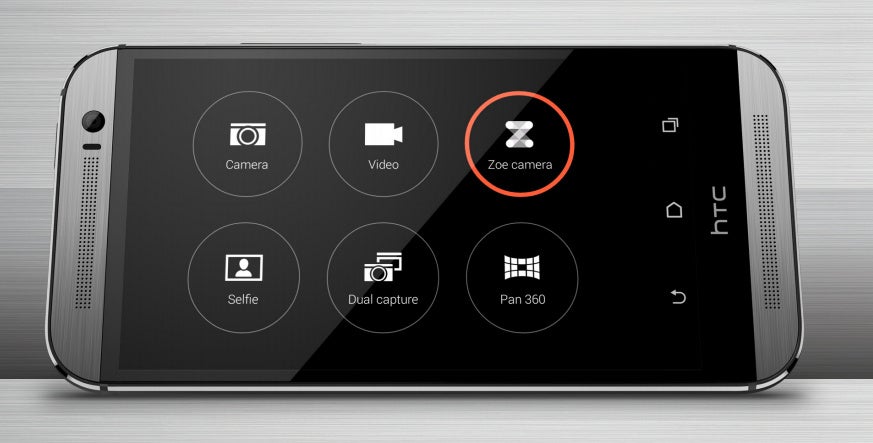 The biggest highlight of the new HTC One, however, is clearly the unique 'Duo' camera system located on the back of the phone. The familiar big cutout for the UltraPixel (4MP) camera is now complemented by a secondary, depth-capturing camera right above it. Taking pictures with the Duo cameras is not any different than what you're used to, but now you have plentiful new editing options.
Having 'Duo' cameras allows you to apply a new UFocus effect to images, which basically uses the depth information from the secondary rear camera, to selectively adjust the focus in images to objects in the foreground or to the background. To do this, you just go into the gallery, select Effects > UFocus, and then tap on the image to adjust the focus. Right below, you can see how changing the focus with UFocus can change the appearance of a picture.

This Duo cameras effect adds nice blurred backgrounds (for a 'bokeh' look) to suitable images like portraits, and that's an effect that's commonly achieved with larger-sensor cameras like DSLRs. In addition to this effect, you can also transform images with a parallax 3D-like feature that changes the perspective depending on your point of view. Not just that, the camera itself has gotten extremely quick, locking focus in around 0.3 seconds.
Apart from that, the new HTC One has a few fun image effects, but those are not very different from what can be found in other camera apps. The rear camera is capable of capturing 1080p video with an optional HDR video recording feature. Then, up front, there is a 5-megapixel shooter with wide viewing angles, which is suitable for selfies and video conferencing. The camera interface has been redesigned with large, round buttons that are easy to press, but dig deeper in the menu, and you have some more advanced options for camera enthusiasts.
New HTC Sense 6.0
With the new HTC One also comes a new HTC Sense user interface that runs on top of Android 4.4 KitKat. This newest Sense carries a version number of 6.0, and it features a more streamlined, flatter interface that matches current design trends.
Probably the biggest new feature in Sense 6.0 are motion gestures, a series of time-saving new shortcuts. First, you now get the double-tap to unlock feature, which we imagine many would use, since the lock key is a bit too far to reach at the top. You can also quickly open BlinkFeed (by holding and doing a right swipe) and widgets (by holding and doing a left swipe) straight from the lock screen. Another useful feature is the quick-start of the camera that you trigger by holding the volume key when the phone is held in landscape orientation.
In addition, HTC's BlinkFeed has gotten more intuitive and easier to use in Sense 6.0. With its tile-based interface, BlinkFeed brings together information from your social networks and news channels that you follow.
Apart from that, the actual icons and colors in HTC Sense have not changed all that much (there is a tendency to go with lighter tones in some apps). Naturally, the handset also comes with the standard suite of Google and HTC apps.
The specs: Snapdragon 801, microSD card support, 2600mAh battery
In terms of other specs, the new HTC One comes with one of the latest and most powerful system chips out there - the quad-core Qualcomm Snapdragon 801. The processor runs at up to 2.3GHz, and it is complemented by 2GB of DDR2 RAM on board.
The handset is coming in 16GB, 32GB and 64GB versions, but good news is that - unlike the original HTC One - it also features expandable storage via a microSD card slot.
In addition to that, the battery on the new One has also grown bigger. The new One now features a 2600mAh battery, up from the 2300mAh one on the 2013 HTC flagship. Battery longevity should not be much longer, but you have a new Extreme Power Saving mode that you can choose to kick off automatically when your phone's about to die. In this mode, mobile data is disabled, and you can get up to 15 hours from a phone that's at a 5% charge.
All new HTC One (M8) price and release date
Best of all, the new HTC One (M8) release date in the United Kingdom is set immediately after the announcement on March 25. In fact, the phone launches on the exact same date in the UK and US - March 25th, just two hours after the official event. Interestingly, the major US carriers will only have it up for grabs online, with only Verizon Wireless is getting it exclusively in-stores. The remaining US carriers that offer the new One, will only get it in stores on April 11th.
How do you like the new HTC One with its more intense metal look, Duo camera, and upgraded internals? Are you getting one?