10 fine Galaxy S7 edge cases and covers to wrap your precious
9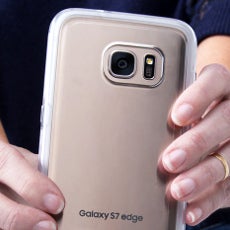 The
Galaxy S7 edge
has a unique 5.5" dual-edge curved display that slopes to the sides, and we bet is pretty expensive to replace if you accidentally hurl the phone face-down towards Mother Earth - say, when the Cavaliers are losing despite LeBron scoring point after point.
In fact, if the first
Galaxy S7 teardown
is any indication, it will be pretty tricky to open both the S7 and the S7 edge, and still keep the watertight certification, meaning authorized repair shops, meaning big bucks if you crack or break the display.
Fret not, however, as barely has the ink dried out on the carrier contracts to start the Galaxy S7 and S7 edge preorders tomorrow, and we are already having many major case makers listing their S7 edge protection wrappers in sync with the announcement. Take a peek at some of the best cases and covers currently available for the S7 edge, as you might want to grab one now, and start protecting your precious investment right from the official March 11th launch date. These below are the official prices, yet you can usually find those cases for much less on places like Amazon and the like, while Samsung still hasn't priced the official cases just yet.