First Galaxy S7 teardown reveals the liquid cooling system
57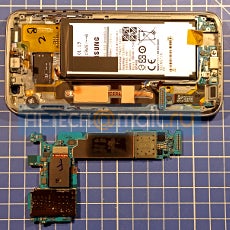 It's barely been a day since the
Galaxy S7
and
S7 edge
were announced to take on the smartphone world by storm, and the Galaxy S7 already has its very own teardown treatment, watertight chassis or not. A Russian tech blog has gotten their grubby mitts on an S7 unit, and gave the trusted heat gun a bit of work to disassemble the back panel, and expose the internals.
First off, the Galaxy S7 indeed has a liquid cooling technology inside, how cool is that? We don't know, but it is built on some intricate flat copper piping with a tiny amount of liquid housed inside that is weaved around the CPU/GPU combo to take away the heat that the new Exynos 8890 and Snapdragon 820 chipsets would generate under, say, gaming stress. Samsung put a specific emphasis on the gaming abilities of its new handsets, as the phones support the new
Vulcan graphics
, and it has even created a dedicated Game Launcher that will minimize notifications and other disruptions while you game. The excessive heat generated by the GPU in these scenarios will now be taken away and distributed more evenly, thus avoiding any chance of overheating, freezes or shortened motherboard lifespan.
The other interesting observation that the folks who disassembled the S7 had, is that there is only very strong and watertight adhesive gluing the rear cover to the frame, no rubber seals around, so they began wondering whether you could lose the IP68 waterproof rating if you leave the phone for a prolonged time in the heat somewhere, or if you take off the cover in a repair shop to replace the embedded battery or the screen. The other takeaway is that the power button is built on a very sturdy mechanism, and is unlikely to break easily with time, which sounds reassuring. Take a look at the first Galaxy S7 teardown below.