Xiaomi Black Shark 2 gaming phone swings by Tenaa with refined design, same screen size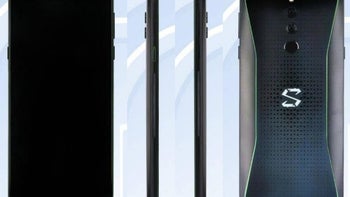 Who's ready for a new round of hardcore
gaming-friendly smartphones
? Nokia is still
unlikely to join the fun
anytime soon, but the
Razer Phone 2
is definitely
right around the corner
, and surprise, surprise, a second-generation Black Shark may also see daylight before long.
That's certainly surprising because Xiaomi's gaming-focused daughter brand unveiled
the original model
less than six months ago, which means the two generations will most definitely share a Snapdragon 845 processor, among others.

Certified in China under the AWM-A0 model number, the Black Shark 2 (unconfirmed name) doesn't look radically different from its predecessor. The overall design is still flashy and aggressive, but whereas the first-gen located its fingerprint reader below the screen, this early sequel appears to adopt a rear-mounted biometric sensor.

Another important change sees the dual rear cameras arranged vertically instead of horizontally, while the backplate's look is simplified and made all in all cleaner.

Unfortunately, the first regulatory files revealed by Tenaa include just a handful of key specifications in addition to a nice quartet of product images. For the time being, all we know about the Black Shark 2 is that it's set to retain its forerunner's 5.99-inch screen size and 4,000 mAh battery capacity.

No words on display resolution, storage, memory, imaging sensors or anything else. For what it's worth, the device measurements are also disclosed, unsurprisingly staying close to the Black Shark 1. We're looking at an ever so slightly shorter, narrower, and thinner phone here that will no doubt make its commercial debut in China.

But what if the reason Xiaomi is rushing this follow-up effort is better global distribution? Wouldn't that be something, also considering how affordable the Black Shark 2 is likely to be?