Razer Phone 2 rumor review: specs, new features and price expectations
5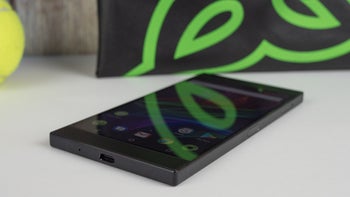 If the rumors are true, the Razer Phone 2 will look almost the same as this one
The new Razer Phone 2 is
coming October 10th
, that much is clear. While some aspects of Razer's new gaming phone are all but certain, others seem to still be up in the air. Razer isn't exactly a mainstream brand when it comes to smartphones, but its computer peripherals and gaming laptops have created a dedicated fan base that's looking forward to the new release, wondering if they'll be putting a new phone in their pockets soon.
So, what exactly do we know about it so far? Let's start with the interesting part first: what will be different from the previous model.
A more powerful chip
Following the logical path of succession, the Razer Phone 2 is coming with the Snapdragon 845 mobile platform on board. Not only was the Snapdragon 845 present on an AnTuTu benchmark for the Razer Phone 2, but Razer Global's vice-president, Chen Xiaoping said himself in an interview earlier this year that the new Razer smartphone will be powered by Qualcomm's latest high-end chip, which at the time of the interview, as well as now, is the Snapdragon 845.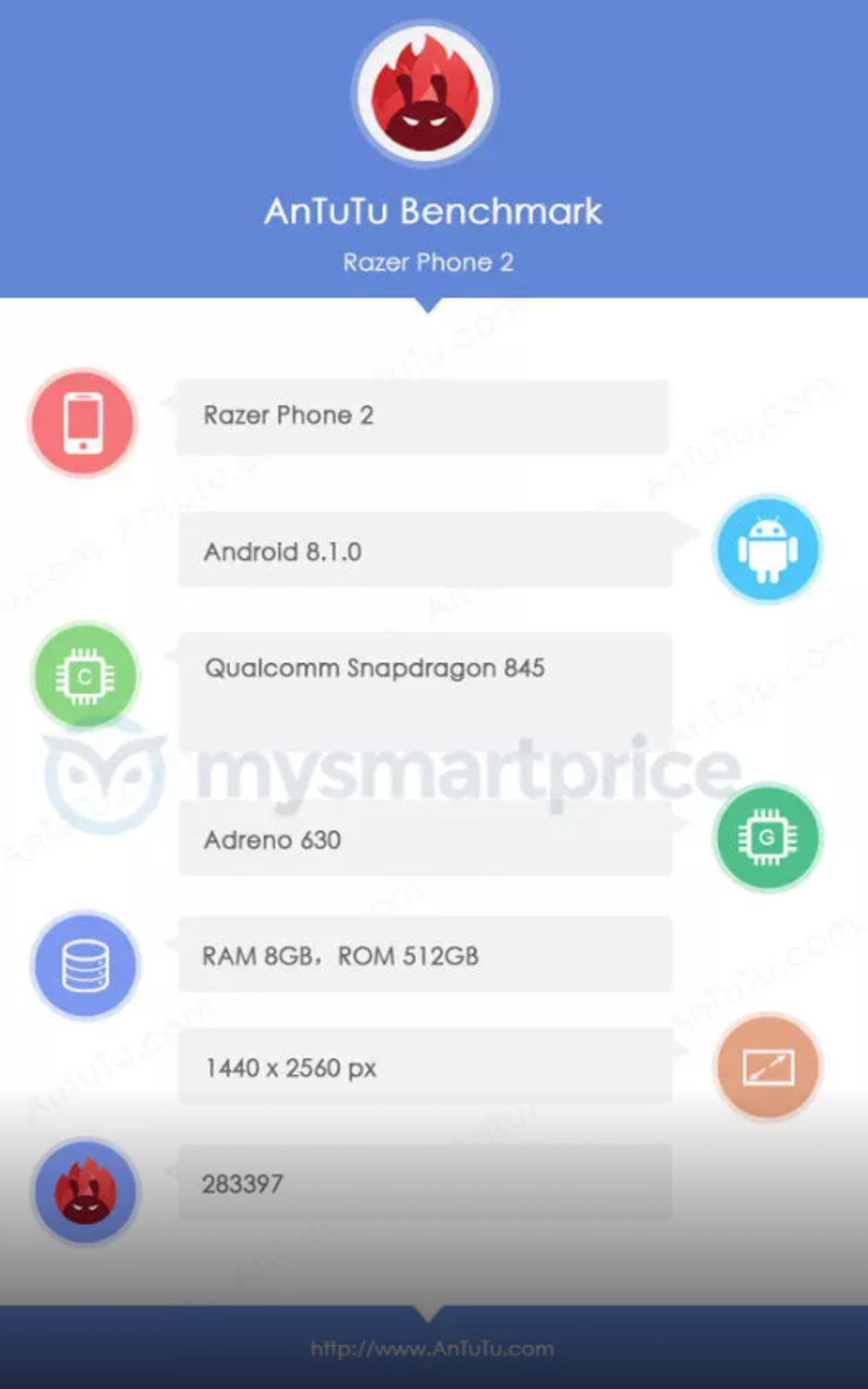 Some confusion was caused recently by a
Google Play certification
, submitted by Razer, showing the Razer Phone 2 listed with the Snapdragon 835.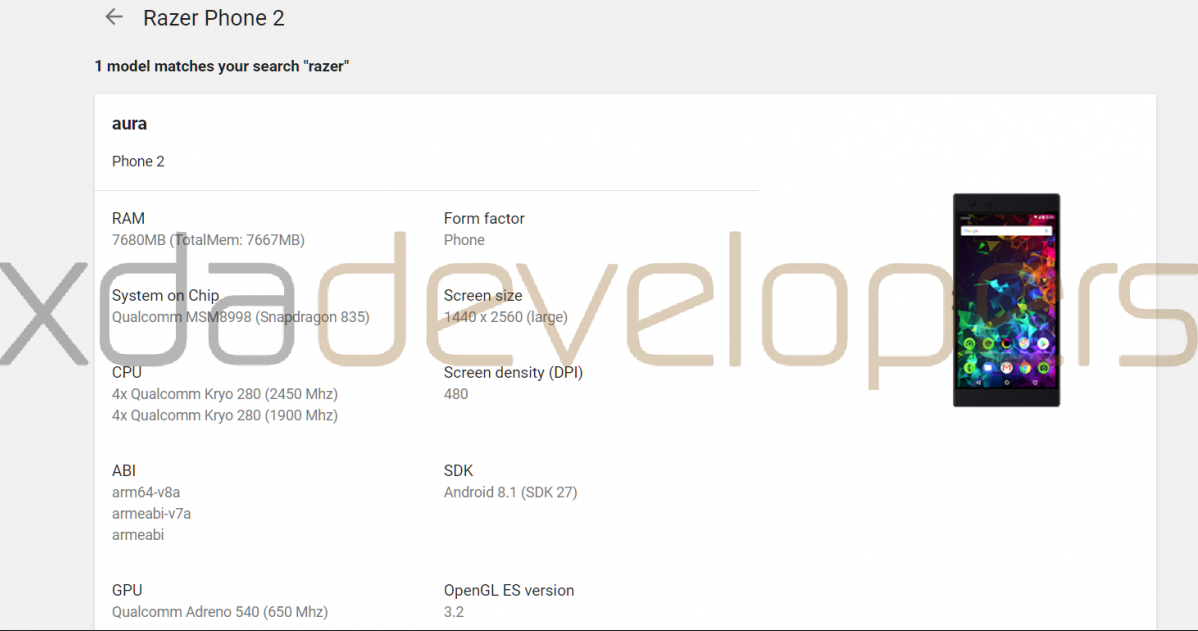 That screenshot was enough to cause a stir on the internet
It's likely caused by some sort of miscommunication between Razer and Google, so we shouldn't pay too much attention to it.
If you're still harboring any hopes that the Razer Phone 2 will jump straight to the
Snapdragon 855
, it's time to put them to rest. The new chip isn't
coming soon enough
for Razer to use it.
Better cameras (fingers crossed)
Rumors about the cameras on the Razer Phone 2 are pretty much nonexistent. But if there's one thing that leads us to believe the Razer Phone 2 will have improved cameras, it's that the overall camera experience on the first model was largely disappointing and was considered one of the phone's biggest flaws. There's a lot of room for improvement and Razer better make use of it.
Chroma LED technology
A new feature that's rumored to appear in the second-generation Razer Phone is support for Razer's own RGB software,
called Chroma
. This suggests the new phone will have an improved LED notification light, or even some kind of LED strips that can be synchronized with your music, games or videos, for a more colorful experience. Razer is notorious for its RGB enabled products that even include a
mouse pad
, so including its phone in the line-up makes perfect sense.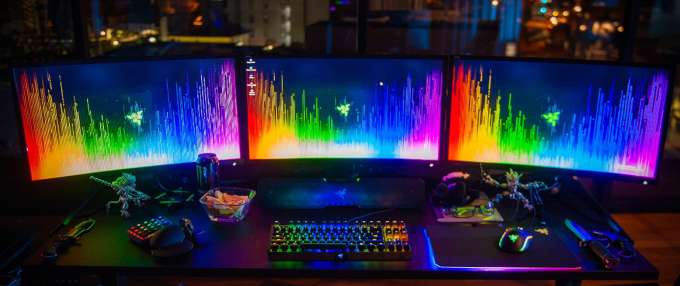 Your Razer Phone 2 will feel right at home among its rainbow-y brethren
Storage
It's not clear if the Razer Phone 2 will come with several storage options, but the model seen on the leaked benchmarks shows 512 GB of storage, a huge increase over the 64GB that were on the first one. If we've learned one thing from other phones with 512 GB of storage (
Galaxy Note 9
,
iPhone XS
), it's that this luxury doesn't come cheap. It's likely that Razer will offer two, possibly three storage options: 64 GB, 128 or 256 GB and 512GB. The previous model supports micro SD cards, but the improved storage could be a sign that the new phone will lack that option.
Touchpad on the back!? (fake)
While we'd love to see phone manufacturers experiment with different features, this rumor is closer to wishful thinking.
A 3D render that's supposed to show the back of the Razer Phone 2 with a touchpad on it recently emerged from a mysterious source. And while the render that started the rumor is clearly fake, picturing a new Razer Phone that has touch sensitive area on the back for added gaming controls doesn't require a big stretch of the imagination.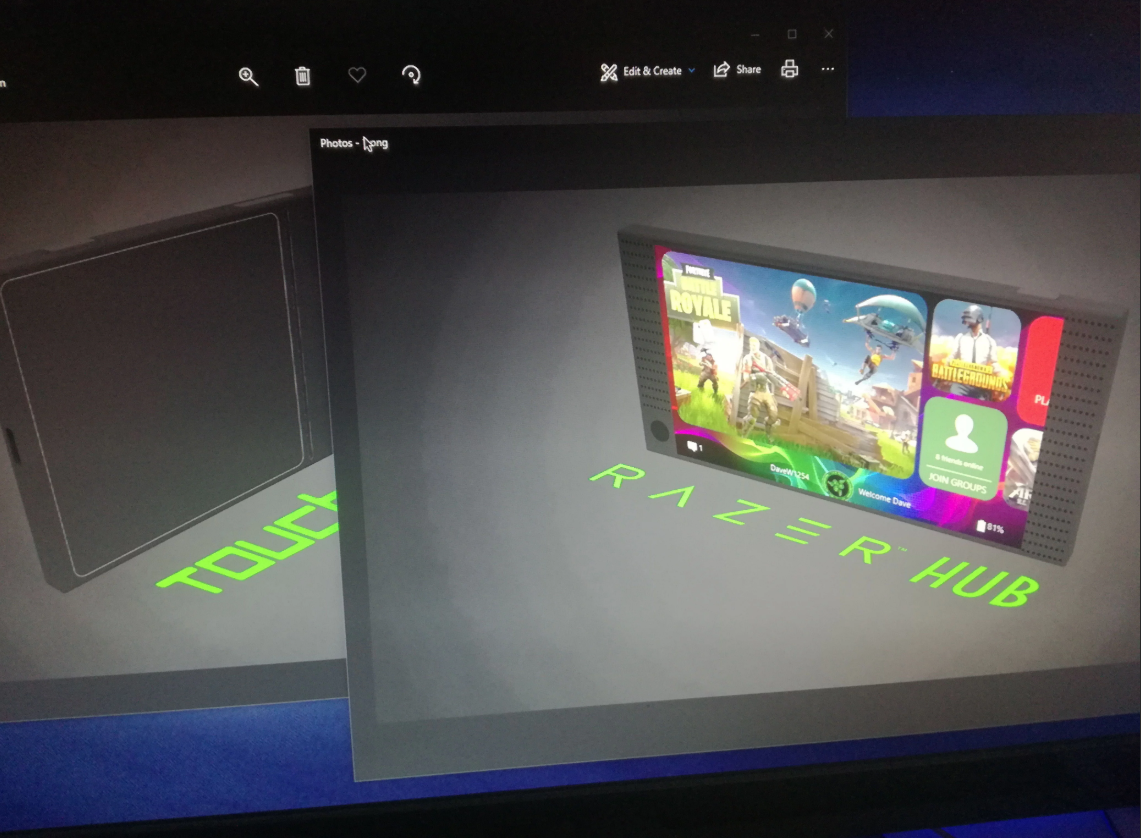 Everyone knows the best leaks are pictures of monitors
The feature will perfectly fit a device like the Razer Phone 2, allowing you to use your index finger for certain functions and potentially leaving more display real estate thumb-free. You might even use it to scroll through pages, so it's definitely not an absurd addition, but it's an unlikely one at this point.
We can only hope that Razer proves us wrong, but this one's a dud on our list.
What we expect to remain the same
Not everything needs to change from generation to generation and Razer has a lot of features in its current phone that will serve owners of the Razer Phone 2 equally well. Here are some of them:
The Design
Renders of the Razer Phone 2
show a device that's hard to distinguish from its predecessor. The new model appears to have the same overall size and keeps its dual front-facing speakers that boast Dolby Atmos support.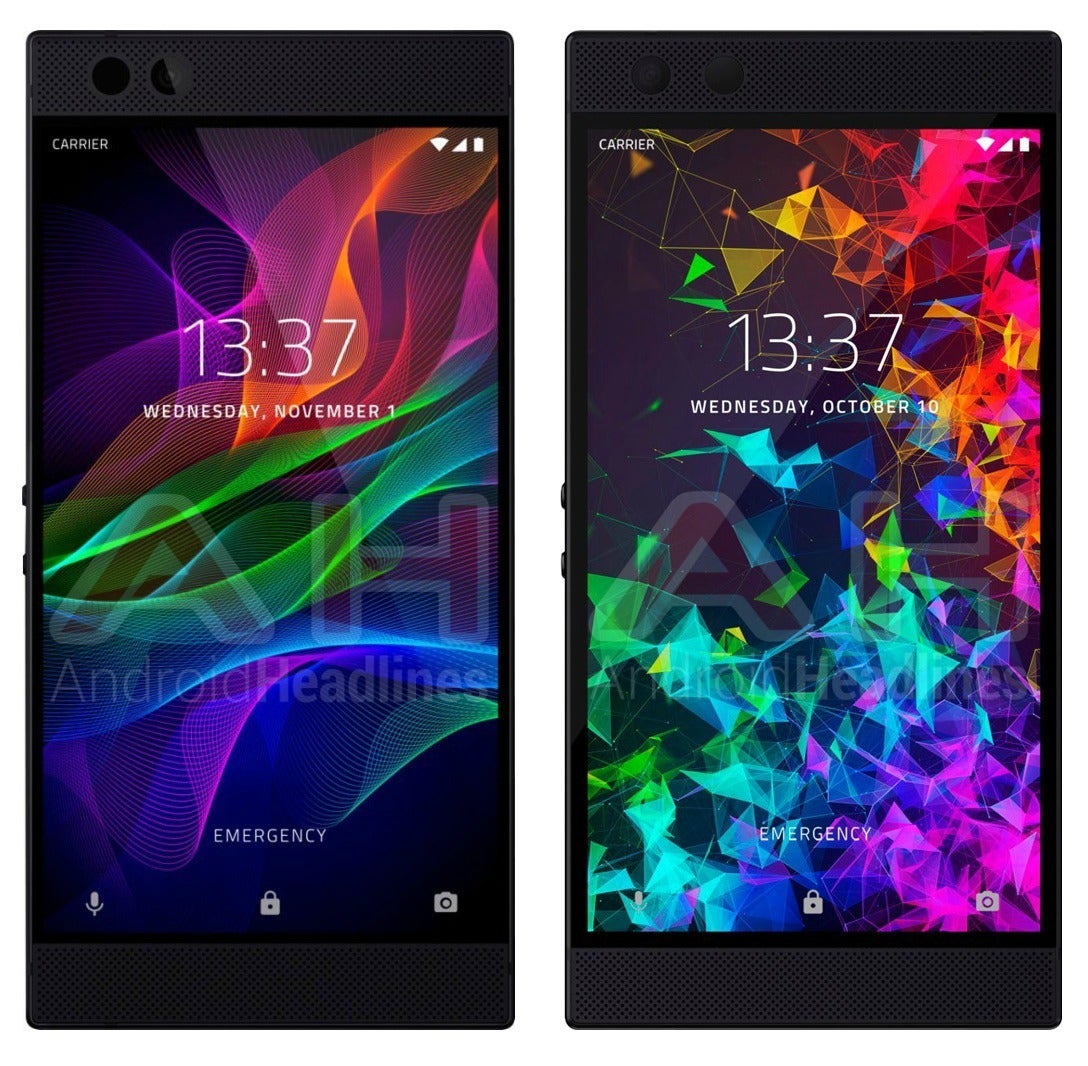 Hint - the new one is on the right
There might be a good reason for Razer to stick to the same form factor. And that reason is called
Project Linda
. Project Linda is basically a laptop with its internals removed and smartphone-sized slot added where the touchpad usually sits. The idea is that you'll put your Razer Phone in it and enjoy a bigger screen and a keyboard (even a mouse if you plug one in). While this project is still a concept, it makes sense that if Razer releases it as a product, it's going to support all of its phones. We might even see it released alongside the Razer Phone 2 at the October event.
The Display
Tagging along with the form factor will likely be the display from the previous Razer Phone as well. That's not a bad thing either. Last year's model came with an impressive Quad HD (2560x1440) display with a 120Hz refresh rate and HDR support. While the display is not OLED as with most other premium phones, the LED panel provides not only great gaming experience, but the 16:9 aspect ratio makes it perfect for media consumption as well.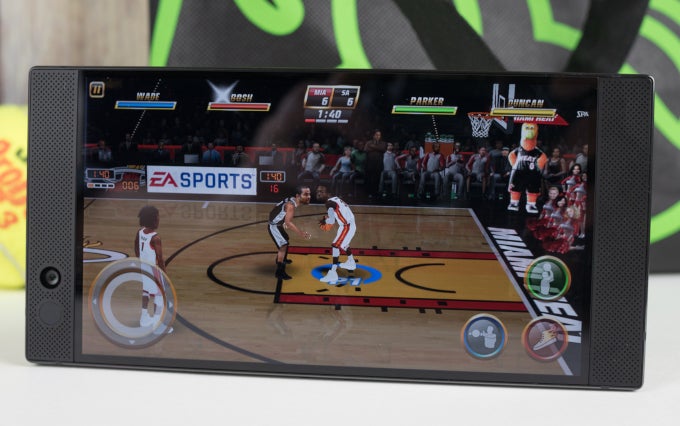 The Razer Phone display's high refresh rate makes games look smoother
Battery and RAM
No changes are expected when it comes to those two specs. Considering the massive 4000mAh battery in the first Razer Phone, you can't really blame Razer for not upgrading it. The same is valid for the new phone's memory. 8 GB is more than enough for a smartphone and currently no manufacturer has gone further than that.
All sounds good, but what about the price?
That's the question, isn't it? The first Razer Phone was released with a price tag of $699. While it will be great if the new model can match that and keep all the upgrades, we have a feeling that this year's model will come with a higher price tag. Not only is there a trend of high-end phones costing more and more, but the 512 GB storage option alone can place the phone around the $900 mark. The Asus ROG Phone is also expected around that price, if not higher, which might give Razer the idea that they could go higher as well. On the other hand, if Razer wants to make its new phone more popular, it could sacrifice some of its profit margin to bring out a top performer at a more competitive price. As most other phones in the saturated high-end segment of the smartphone market, the price will largely determine the success of the new device.
Luckily, we don't have to wait much to find out what's true and what's not, in one shape or another the Razer Phone 2 is coming October 10th.