Best Cyber Monday wireless headphones deals
We may earn a commission if you make a purchase from the links on this page.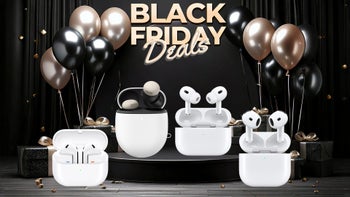 Black Friday slowly but steadily transitioned into Cyber Monday with tons of offers still in effect, now may be the perfect time to find the most suitable pair of headphones for yourself, or as a gift to someone for the holiday season. Here we have the best Black Friday and Cyber Monday
wireless headphones
discounts available right now, including truly wireless
earbuds
and wireless over-ear headphones, with and without active noise cancelling and other extras. Check these out before the Black Friday and Cyber Monday shopping bonanza ends, along with the discounted prices!
You may also find interesting:
Best Black Friday sales on Apple AirPods
The most popular wireless earbuds in the world are unsurprisingly also among the most sought-after items on Black Friday. Check out the best discounts on Apple
AirPods
you can take advantage of right now:
Best Black Friday deals on true wireless headphones
Want to live your life with a soundtrack, without the hassle of cables and backpacks? Then true wireless headphones are the best choice for you! Compact, highly portable and perfect for gym sessions and travels, below are the best deals available right now on wireless earphones from Sennheiser, Bose, Samsung, JBL and other top brands.
Best Black Friday discounts on wireless over-ear headphones
Over-ear headphones could be the most comfortable solution for some, plus they often excel in terms of bass, at the expense of portability. Below are the best current Black Friday offers for over-ear headphones, including models from big-name brands often associated with quality, such as Sennheiser, Bose and Sony.
SUBSCRIBE TO OUR NEWSLETTER!