Black Friday deals on wireless headphones: best time to buy Bluetooth headphones is here!
We may earn a commission if you make a purchase from the links on this page.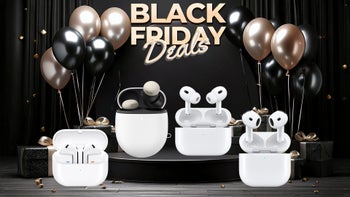 The top
Cyber Monday
headphone deals still include the same discounts that were available on
Black Friday
, so if you have been eyeing a snatch on the Apple AirPods Pro or Sony headphones, now it the time, as we have handpicked the current Cyber Monday earbud deals for you below!
Top 5 Black Friday 2022 headphones and earbuds deals
Best Black Friday headphone deals: Apple's AirPods
Best Black Friday headphones deals: Samsung Galaxy Buds
Best Black Friday headphones deals: Bose headphones
Bose is one of the most trusted and respected names when it comes to both regular and noise-cancelling headphones (especially over-ear headphones), as well as true wireless earbuds.
Best Black Friday headphones deals: Sony wireless headphones
Sony prides itself for making some of the most highly-regarded wireless active noise-canceling headphones - both true wireless earbuds and over-ear headphones. Now's your chance to grab the excellent WH-1000XM4!
Best Black Friday headphones deals: Beats wireless headphones
Some of the most popular models of Beats by Dre headphones are also often discounted. Anyone chasing that particular street style should keep an eye on these deals:
Best Black Friday headphones deals: Razer wireless headphones
Razer's headphones are highly popular with gamers, and if you're one, you probably have a few things in mind for Black Friday 2022! Does that shopping basket have room for a new over-ear set? If it does, we will be tracking Razer discounts during Black Friday 2022 here:
Best Black Friday headphones deals: Sennheiser wireless headphones
The Sennheiser name carries a great deal of weight in the world of headphones, and as can be expected, Sennheiser headphones are usually pretty expensive. So if you've always wanted a pair, Black Friday is the time to get one for cheaper! Below we have the best current deals we could find, while waiting for the shopping event:
Which wireless headphones to buy during Black Friday and Cyber Monday?
If you're not sure what kind of headphones will be best for you, here are some suggestions... For casual music listening or watching movies indoors, Apple users will likely find the AirPods Max most comfortable, plus they sound great!
If you're often on the move or looking for in-ear headphones instead (as opposed to over-ear - those that fully cover your ears) you'll find either the AirPods Pro or Samsung Galaxy Buds 2 suitable. Those two are also great as gym earbuds.
If you're not interested in Apple or Samsung headphones, some of the best brands you can go with include Sony, Bose and Sennheiser, which all offer both quality in-ear earbuds and over-ear headphones that are currently reduced in price for Black Friday (see the deals above) and hopefully their price will stay reduced for Cyber Monday as well. Those are all great for casual music listening, or as gaming headphones, and some - even for professional work, such as music production and mixing.