Black Friday tablet deals: here are the offers we saw during the event
1
We may earn a commission if you make a purchase from the links on this page.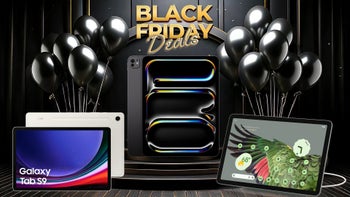 Black Friday 2022 is now officially behind us, alongside the many great deals it brought this year. Some of the best deals that we saw were on many of the popular tablet models from your well-known manufacturers like
Samsung
,
Apple
, Lenovo, and more. So, if you missed your chance to get a new tablet this time around, why not check what types of discounts we saw to get a good picture of what to expect in 2023?
On that note, here is a sum up of the offers that came up during the massive shopping event, as well as some that are still live thanks to the holiday season.
Black Friday 2022 tablet deals
iPad Pro deals

The iPad Pro models from Apple enjoyed some surprisingly great discounts this year on Black Friday. The 512GB version of the 2022 iPad Pro, for example, got its price reduced by $400! That was one of the best deals on an Apple tablet we had seen in a while.
On top of that, last year's generation 12.9 and 11-inch iPad Pros also got some nice discounts at BestBuy, which dropped their prices by $300 and $200 respectively. In fact, these deals are still live right now, so you still have a chance at getting a cheaper iPad Pro! Not to mention that there is practically no noticeable difference between the 2021 and 2022 models.
Currently, the iPad Pro 12.9 (2021) discounts start at $300 for lower storage models and go to $400 if you wish to upgrade to 512 GB or more. If you have a comparable gadget to trade-in, Best Buy is now offering an extra savings of up to $450 as well. The M1 iPad Pro 11" (2021) has a less impressive price cut, but is enjoying the same trade-in offer.
Apple Pencil deals and Magic Keyboard deals
The Apple Pencil is that one purchase that can help you utilize your iPad to its utmost potential. It is a must if you do creative work, but is also helpful for more casual things like giving your kid to color and draw.
The 1st and 2nd generation of the Apple Pencil, as well as the different versions of the Magic Keyboard, also got good discounts at BestBuy. The best offer was for the 2nd-gen Apple Pencil, which fell below the $100 mark thanks to a 31% price cut.
iPad Air and iPad mini deals of Black Friday 2022

Sometimes you want a great tablet but with a much smaller form factor. Well, the iPad Air and iPad mini are both very powerful and easy to pack in backpack when you commute or travel. They are also cheaper than the Pro models that Apple offers, so add to that a juicy Black Friday discount and you have one heck of a deal.
The
iPad Air
from 2022 with cellular connectivity got its price reduced by about $80 during Black Friday, while the iPad mini 6 got its price cut by $100 at Amazon.
iPad deals on Black Friday 2022:
Want to enjoy Apple's software on a tablet without having to pay a premium price? The entry-level iPad will probably cover most of your casual activities like watching YouTube videos, playing a mobile game, or jotting down a quick note. Black Friday makes these affordable iPads, well, even more affordable. Suffice to say, it is the perfect time to save on an Apple tablet.
The 2021 entry-level 10.2" iPad also got some love at Amazon in 2022, making it about $60 cheaper than its usual price. No offers popped up on the newer version though.
Black Friday Galaxy Tab deals
Samsung manufactures the best Android tablets you will find on the market, especially when it comes to the mid-range and flagship models. From the productivity beast that is the Galaxy Tab Ultra, to the more budget-friendly options like the Galaxy Tab A series, you can't go wrong with a Samsung tablet.
Of course, the king of discounts during such events is usually Samsung. We often get some great deals on Galaxy Tabs during shopping events, and the best ones are on Black Friday. Samsung had amazing trade-in offers on its tablets that brought their prices down significantly. However, there were also regular discounts with no strings attached at retailers like Walmart, Best Buy, and Amazon, hovering between 25% and 35%.
Cheap Android tablet deals by Lenovo on Black Friday

Lenovo tablets are already on the cheap side but even they enjoyed some good discounts ranging from 26% to 47%. The IdeaPad Duet 3i, for example, was $180 cheaper at Best Buy, while the Lenovo Tab P11 received a $120 price cut at Amazon.
Microsoft Surface Pro deals Black Friday 2022:
Microsoft's Surface tablet have an interesting standing — they are slates, but they run the full Windows, as if they are laptops. Models like the Surface Pro 7+ and Surface Pro X saw discounts around 35% at Best Buy, while the Surface Pro 9 was down by a nice $100 at Amazon.
Amazon Fire tablet deals of Black Friday 2022:
Most of Amazon's Fire tablets saw significant discounts above the 30% mark, some of which even hovered at half price for quite some time during Black Friday. In fact, the early deals prior to the big shopping event were quite similar in terms of price cuts as well, which goes to show you don't really have to wait until the actual craziness commences.
Should I wait until Black Friday to buy a tablet?

Given that Black Friday 2022 was just weeks ago, we would say that it is not worth the wait until November next year. There are still some good holiday season deals at most of the popular retailers, so check them out to see if anything tickles your fancy. Not to mention that there are plenty of other shopping events until Black Friday 2023, like Amazon Prime Day for example, which you can use to get some nice deals on a tablet you want to buy.


Where to find the best Black Friday tablet deals in 2022?

Usually, the best tablet deals on Black Friday pop up at retailers like Best Buy and Amazon, but manufacturers such as Samsung and Lenovo are also really good when it comes to holiday season discounts. It is also a good idea to look at some other retailers like Walmart and Target.