Best tablet deals on Black Friday 2021
1
We may earn a commission if you make a purchase from the links on this page.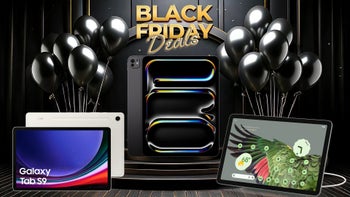 Just like every year,
Black Friday 2021
has rolled about yet again — a major shopping event honored by pretty much every retailer, big and small. We are neck-deep in discount offers, coupons, deals, and percentages flying about. So, let's try to make sense of the mess. Looking for a tablet? Here are the best Black Friday deals on tablets we've found thus far!
iPad Pro deals on Black Friday
The newest iPad Pro 12.9 (2021) and iPad Pro 11 (2021) are absolutely the most powerful tablets out there right now. Apple's M1 chip — which actually powers the desktop iMac, the Mac mini, and the MacBook Pro and Air — has been fitted into these slates, giving them enormous productivity and great battery life. To top it off, the 12.9-inch model has the new XDR display, which offers superb picture quality when watching HDR content.
Needless to say, they are quite pricey, so finding a deep discount on one is a real treasure.
iPad Air and iPad mini deals on Black Friday
The iPad Air 4 (2020) is a pretty good alternative for those that are looking for a powerful tablet in the iPad Pro shape, but sans the iPad Pro price. It looks a lot like your regular iPad Pro 11", but has a less-powerful processor and a 60 Hz screen, unlike the Pro
Motion
on the Pro models. Don't pass it up lightly, though — the iPad Air 4th gen is a very good tablet in its own right, plus it comes in some fun colors, too.
The iPad mini was recently released in 2021 and is pretty much a smaller iPad Air. Be warned, its tiny display kind of makes it hard to make use of multitasking features like Slide Over and Split View. It's better-suited for people that want to have a tiny tablet to sketch with the
Apple Pencil
2 on. If you are looking for an actually affordable iPad, look at the base model below.
iPad 10.2 deals on Black Friday
The base iPad was refreshed again in 2021, this time coming with 64 GB of storage at its cheapest tier. That's not… great, but definitely good enough for those that are looking for a dependable tablet for media usage and some mobile gaming. We rated the iPad 10.2 (2021) high in our review, because it runs great, looks great, and is an absolutely solid deal for its MSRP of $329. Now that Black Friday is here, you may end up grabbing one for cheap, which is absolutely great!
Older iPad models Black Friday deals
The iPad Pro units from 2020 are still absolutely fantastic and if any retailer is trying to clear them out during Black Friday — it's a good idea to jump on those. They usually get a hefty discount, since they are taking up storage room. They may not have the M1 chip, but rest assured that they still run great and look absolutely smooth with their 120 Hz ProMotion displays.
The older iPad Air models and iPad mini models are a bit harder to recommend. And if you are buying a previous-generation iPad 10.2, be warned that up until 2020, they used to come with only 32 GB storage at their base tier. So, a good Internet machine, but easy to fill up if you actually install stuff on them.
Samsung Galaxy Tab deals on Black Friday
Samsung has yet to give us a new top-tier tablet — the
Galaxy Tab S7
+ is still the last heavyweight slate the manufacturer has to offer. And it's getting quite old — it was released in August of 2020 and, since then, the iPad Pros pretty much rattled the market with their super-powered processors.
Still, if you are an Android user at heart, Samsung's tablets are among the few that could sate your needs.
Lenovo tablet Black Friday Deals
Lenovo is the third biggest tablet manufacturer in the world, offering an extremely versatile range of tablets for a long time. Although most of its tablets run Android, some, like the Chromebook Duet, use ChromeOS and offer both tablet and laptop functionality.


If you're looking for a Lenovo tablet, Black Friday 2021 is definitely the time to buy one. Without further ado, here are the best Lenovo tablets Black Friday deals that are live right now!
Microsoft Surface Pro Black Friday deals
Microsoft's Surface tablet have an interesting standing — they are slates, but they run the full Windows, as if they are laptops. Though, the tech required to accomplish this is pricey. So, finding Surface deals this Black Friday is a high priority for us.
Best Black Friday tablet deals: Amazon Fire
Amazon traditionally drops the prices of its own devices significantly during major shopping events — Echo Dots and Fire tablets galore! Fire tablets are usually affordable as they are, but during Black Friday 2021 they turn into straight-up bargains for anyone whose looking for a base tablet to watch shows and read books on. These do sell out fast, so be aware.
Which Black Friday tablet deals to look for in 2021?
Your best bet to get a real bargain is to hunt for a flagship tablet that's a bit older now — especially if it has had a successor released recently. Stocks need to be cleared, so Black Friday's best tablet deals usually hit the models that need to go harder. Conversely, you may want to look for discounts on specific accessories for your tablet — Apple Magic Keyboard and Pencil, or a Samsung Keyboard Folio.