Best Cyber Monday tablet deals
We may earn a commission if you make a purchase from the links on this page.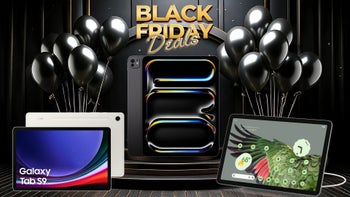 This article will be updated regularly as new Black Friday and Cyber Monday 2020 deals on tablets become available.


Shopping season is here and
Black Friday 2020
brought us some of the best deals of the year. However, now that we're through the initial shopping rush, it's time to set our sight on the upcoming Cyber Monday deals, some of which have already starting popping up. If you want to get yourself a new tablet with a good discount, this is the perfect opportunity.
Black Friday deals on tablets:
The best Apple iPad discounts this Cyber Weekend
Carriers and retailers already have some brilliant
iPad Black Friday and Cyber Monday deals
. Those of you on a tight budget should head over to Verizon, who is selling the new 10.2-inch iPad with cellular connectivity for just $199.99. That's an incredible $260 cheaper than usual, although the discount jumps to $360 if you trade in an old iPad.
If you must have the very best, the
iPad Pro
is likely the tablet for you. This Cyber Weekend, Amazon is taking $100 off this year's new iPad Pro, a great choice for artists and businessmen alike.
Of course, the deals don't stop there. If you're looking for a specific model and/or retailer & carrier, make sure to check out our full iPad Black Friday & Cyber Monday deals roundup:
Deals on Samsung Galaxy Tab tablets for Black Friday and Cyber Monday

Samsung itself will give you $150 off the new Galaxy Tab S7, S7+, or S6, with extra incentives for trade-ins. If you don't have an older tablet to trade, Amazon also has some pretty sweet deals for those same models, including the Galaxy Tab S7 for $540.

Cheaper alternatives include the 128GB
Galaxy Tab A
10.1 (2019), which is only $199 at Best Buy right now, the Galaxy Tab A 8.4 (2020) at AT&T for $4/month or $120, and the Galaxy Tab S5e which sells for $240 at AT&T.
Don't forget there are many more Samsung deals to check out this Black Friday and Cyber Monday. Check them all out:
Black Friday & Cyber Monday sales on Amazon Fire tablets
Amazon's Fire tablets are another, even more affordable option. There are some brilliant discounts across the range, but you need to act fast, because these offers tend to get temporarily out of stock often.
Both Best Buy and Target have some good deals. The former is offering the Fire HD 10 2019 tablet for $70 less than usual, whereas Target has the Fire 7 2019 tablet for just $39.99.
Cheap tablet offers on Black Friday and Cyber Monday

Tablets under $200 are often limited to Amazon Fire devices, but Cyber Weekend is a great time for deal hunters looking for more options. Retailers like Best Buy and Target are offering great deals on lesser known value picks, so you can pick up a tablet starting at $79.99.