Best Black Friday deals on Google Pixel phones: 2022 recap and what to expect in 2023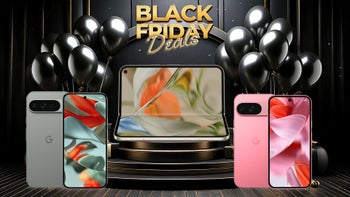 Black Friday 2022 came and passed as quick as a summer storm despite that it took place in late autumn. Tons of deals were available on all types of tech, with most promotions fortunately starting way ahead of the actual Black Friday event.
Many Google Pixel phones were discounted during the Black Friday extravaganza in November 2022. What does the future hold for us, and which models will get discounted in 2023? It's too early to have any expectations, but we deduce some of the upcoming deals judging from 2022's offers.
What Google Pixel phones were on sale during Black Friday 2022?
Google's latest Pixel 7 Pro and Pixel 7 flagships
These are Google's latest Pixel models. Continuing the footsteps of the Pixel 6-series, the new
Pixel 7 Pro
and
Pixel 7
deliver an excellent user experience with a focus on a mastery of artificial intelligence. What's more, these two also bring the signature Pixel camera look to a whole new level thanks to quite a few new camera features. During Black Friday 2022, we saw some quite intriguing deals, which slashed the Pixel 7 and Pixel 7 Pro prices quite a lot, in some instances down by $100-$200 from their regular $599 and $699 price tags. Some carriers even gave away the phones if you opted for an eligible subscription and/or an applicable trade-in.
Google's Pixel 6 Pro and Pixel 6 aren't the newest, but are a good pick
While the
Pixel 6 series
is already discontinued and not officially sold by Google, most large retailers still have them in stock. They still get major software updates by Google, and they still have awesome cameras. You just save some cash due to the fact they are not the newest, shiniest gadget! The Pixel 6 and Pixel 6 Pro were also discounted by a good $200-$300 from their retail price as they have reached the end-of-the-line and are no longer considered new devices by Google.
Google's Pixel 6a is a budget phone done right
The Pixel 6a looks like the flagship series in terms of design, with only a few small compromises like a 60Hz screen, but for all else this budget phone is quite incredible. It has a top notch camera, solid battery life and a beautiful screen. Best of all, we has some truly incredible deals: while usually it costs $450 for the base 128GB model, we saw it drop to merely $300!
Which Pixel should you get?
The new Pixel 7-series is Google's best so far, with top-notch specs and superb design. That said, Big G's two new phones aren't that much different from the Pixel 6-series, with most of the differences being camera enhancements, quality-of-life improvements, and slight visual touch-ups. So, which new phone to get?
Like with any other purchase, it is best to begin with your budget. Keep in mind that many of the perks a Pixel phone offers can be found in older models too, so you don't necessarily need the latest one to enjoy the Google experience. With that in mind, the Pixel 7-series will definitely be the most advanced new Pixels at the time Cyber Monday 2022 hits, so it would make sense to consider either the Google Pixel 7 Pro or the Pixel 7. Considering that Google didn't increase the pricing from the Pixel 6-series, getting the latest phones is a no-brainer, especially if you find a killer deal.
If the new phones don't strike your fancy, you might want to consider the Pixel 6-series which could certainly be subjected to massive stock-clearing sales. Think price cuts bordering 50% or more! Seeing that there aren't that many differences between the Google Pixel 7-series and Pixel 6-series, you might want to consider the older phones, but be advised that supplies might not last too long, and you might miss some niche exclusive features that only the new phones get, like the new Tensor G2 chipset and some camera features.
Finally, the Google Pixel 6a is another budget possibility that we love. It's an affordable phone done right, with most of the same Pixel DNA present here, and just slight corner-cutting in ways that are not too off-putting to regular consumers. You can't really go wrong with that one!
Where to find the best Pixel deals on Black Friday?
Long story short, we expect most of the noteworthy Google Pixel deals this Black Friday to take place on any, if not all of the following retailers and outlets: Google Store, Amazon, Best Buy, Target, Walmart, Verizon, AT&T, T-Mobile, and so on. Chances are that most online stores will be hosting a sale on the Pixel series, so it's worth checking them out when the time comes! Of course, rest assured that we will be helping you separate the wheat from the chaff and will be showcasing the very best deals on the Pixels in this article.
Can I get an unlocked Pixel phone on Black Friday?
Yes, the majority of Pixel deals this Black Friday will allow you to get an unlocked Google Pixel phone. Be it the Google Store itself, Best Buy, or Amazon, you will most certainly be able to snatch an unlocked Pixel phone.
Is Black Friday a good time to buy a Pixel phone?
Black Friday is arguably the best time to get a Google Pixel phone. Why? Because Google, just like any other major hardware manufacturer, will seek to maximize its pre-holiday season sales, and thus, it will participate in the Black Friday deals bonanza. We expect the biggest price cuts on Pixel phones this very Black Friday, so if you've ever entertained the thought of getting a Google Pixel phone, late November 2022 will be the perfect time to do so. Act fast or you will miss the sale, and uncertainty lingers as to when the next saucy Pixel deal will land!
Other Black Friday 2022 deals to check out: