Best Black Friday smartwatch deals - we had some great Galaxy Watch deals!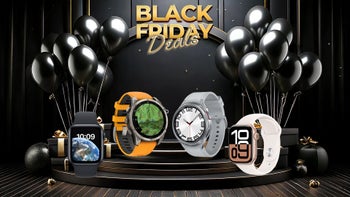 Black Friday is now long gone, and deals are also over, sadly. There's one thing we could do, and that's reflect on and recap all the great discounts we had during the event. Fret not; years go by like fleeting moments, like glimpses of light passing a distant Galaxy on their everlasting cosmic journey, and everything is so small in the grand scheme of the universe. The next Black Friday event will be here before you know it.
By looking back at all the deals, you would be able to clad your armor for the next event, and be prepared in the best possible way. Here we analyze all the past Black Friday deals on smartwatches from Samsung, Apple, Fitbit, Garmin, and various other brands. Read on and dip your toes into the river of the past.
Best Black Friday smartwatch deals by category:
Deals recap on Apple Watch
Apple normally don't discount its gadgets unless the models are hopelessly obsolete, and this Black Friday was no exception. We got some minor $50 discounts, which to be frank were available prior to the event and some of them are still live. So, there's no need to feel bad if you missed the main act this year, you can snatch an Apple Watch throughout the year at similar discounts. The above was especially true for the latest Apple Watch 8 and Ultra series.
Now, a several generations back, there were some decent deals, such as the $150+ discount on the Apple Watch series 6, and some rare Apple Watch 7 deals on Amazon, which saw limited number of devices getting slashed with $100+ discounts. They quickly sold out, though.
Galaxy Watch discount analysis
The newest Galaxy Watches got a steady $50 off at all retailers, but if you had an old device to trade-in (not necessarily a smartwatch), Samsung had the best treat for you, thanks to the enhanced trade-in program. Our favorite offer during last Black Friday was the Galaxy Watch 5 Pro receiving a neat $70 price cut. Let us remind you that this is the latest and most powerful model in Samsung's lineup.
The real star of the show was the Galaxy Watch 4, which was discounted with a hefty $160 at Best Buy, Amazon, and other online retailers for a couple of weeks prior and after the event. The past Black Friday was possibly the best time to get yourself a Galaxy smartwatch, if you don't mind to shop a generation older gadgets.
Google Pixel Watch Black Friday recap
The Google Pixel Watch is one of the more exciting new watches, and even though it's fresh out of the hardware oven, it did appear in the Black Friday deals. There were some minor discounts at Best Buy, slashing $50 off the regular price of this new and exciting gadget. Nothing more to say here, expect better deals during the next event.
Fitbit Black Friday deals
Apple and Samsung weren't the only ones offering cool wearables on sale. Fitbit dropped prices on some of its finest watches and fitness trackers too with discounts on the Fitbit Charge 5, the Fitbit Versa 4 and more. The previous generation of the Versa received the best deals during the event, with discounts pushing the $100 mark.

Garmin Black Friday deals
Smartwatches from Garmin saw some huge price cuts! While we didn't see the newer Forerunner models on sale, we got the flagship Epix Gen 2 series with an AMOLED screen at a sweet discount and we also had lower prices for the Fenix series. Our favorite deal was on the previous generation Fenix 6 family - the solar model was $400 off at Best Buy, so it was a great opportunity to get one.

Other smartwatches on sale for Black Friday
Aside from these popular brands, there were countless options out there, and some of them similarly useful as an Apple Watch or a Samsung Galaxy Watch. Wearables from the Amazfit sub-brand of Xiaomi got their prices cut almost in half, and there were also deals on Withings smartwatches, TicWatches and other a little less popular brands.
When do smartwatch deals start on Black Friday?

You should expect smartwatch deals to really start popping up at the date of the event but there's a good chance for some early Black Friday smartwatch deals, as some companies might jump the gun in order to surprise the competition.

So, if you've already marked the date, better circle the days before in your calendar as well, and keep an eye on this article for some early deals. We're updating the piece regularly, and when the time nears, these updates will become ever so frequent.


Which retailers have the best deals on smartwatches during Black Friday?

Another very tough question, right? Normally, there are smartwatch deals everywhere, and it's not exactly clear which retailer would post that crazy 80% discount. Of course, you should expect the usual suspects to join the race, namely Amazon and Best Buy.

You should also keep an eye on Samsung, as the Korean company surprised us on several occasions with some pretty good deals, including trade-ins offering hundreds of dollars in worth. You don't have to worry about which retailer will push out the best deal - we're here for you, and we're going to do this for you. Just keep an eye on this article.


Is it worth buying a smartwatch on Black Friday?

Black Friday is one of the biggest (if no the biggest) shopping events of the year. If you're looking for smartwatch deals, your best bet will be either the Amazon Prime Day event or Black Friday. So, if you're on the lookout for a new smartwatch, it's absolutely worth it to buy one during the Black Friday event.